Prison conditions scrutinised in NGO's needs assessment
By Salome Modebadze
Wednesday, July 6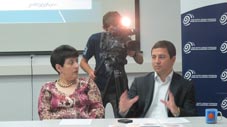 Conditions for juvenile convicts at Avchala Juvenile' Correctional Facility became the subject of studies for the Georgian Center for Psychosocial and Medical Re¬habilitation of Torture Victims (GCRT) which identified the main problems and needs the youth are facing in the penitentiary system at present. With the support of Open Society Georgia Foundation (OSGF) human rights, healthcare and mental health experts studied the factors blocking accessibility of medical ser-vices, analyzed their causes and developed appropriate recommenda¬tions.
Health Care Needs Assessment in Juvenile Special Facility research carried out in the frames of the memorandum with the Ministry of Corrections and Legal Assistance in 2010 included an analytical framework for the evaluation of a health care organization in the institution; medical investiga¬tions to study the main parameters of physical health and mental health screening tests based of an international standard considering national legislation and by-laws.
The research group recommended Avchala correction facility to organize their administrative resources by eradicating data management, information and documentation related problems; provide disease management and patient safety as well as ensure constant professional education of personnel working with juvenile convicts. In addition to this they want to see the provision the convicts with the adequate medical care and preventive activities by identifying vulnerable categories that need special assistance including convicts with psychological problems for better re-socialization.
Pleasantly surprised with the readiness from the Ministry of Corrections to let them monitor the conditions of the juvenile convicts Irakli Sasania public health expert stressed that coordination between the Ministry of Correction and Healthcare would become an initial step for dealing with the drawbacks they have faced in Avchala. Welcoming the fact that the correctional facility has several social workers and psychologists looking after the psychological and physical conditions of the juveniles, authors of the research hoped that the "pleasant statistics" they have found during the monitoring of the correctional facility would be followed by the relevant activities.
Otar Toidze Chairman of the Parliamentary Committee on Health Care and Social Issues emphasized the importance of the research for the Georgian society. MP highlighted the importance for making psychological analysis of the juvenile convicts, investigation of their healthcare problems and necessity for protecting the rights of the youth who are as yet unaware of the teenage-related problems. "Today's research has shown us how much the Government is interested in solving the drawbacks within the juvenile correctional facilities. I'm sure the recommendations of the study would become the guidelines for the Ministry of Healthcare as well as a manual for Parliamentary Committees working on related issues," Toidze told The Messenger counting on improvements within the penitentiary system for the juvenile convicts.