Resort Season Opens in Beshumi
Monday, July 11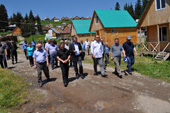 The Deputy Chairman of Parliament, Anzon Bolkvadze and the Chairman of the Autonomous Republic of Adjara, Levan Vashalomidze, visited the Highlands of Adjara and checked the readiness of Beshumi resort for the summer season.
With the support of Anzor Bolkvadze several new cottages were built and the old buildings renovated. The resort and its surrounding family-type hotels can host about 300 guests. 25 GEL is the cost per person including full catering in the new cottages.
"With the efforts of the Adjarian Government and our support, immense works were carried out on the resort. Besides construction and repair work on the cottages, the water reservoirs were installed, the electricity lines were fixed and the local infrastructure was resurrected. In addition, it is planned to fix Goderdzi Pass- 8 Km long section of Beshumi Road as well as local roads"- Anzor Bolkvadze noted.