ISCE to hold economic conference in Tbilisi
By Messenger Staff
Tuesday, July 12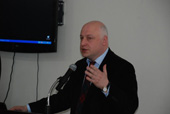 The summer session of the OSCE parliamentary assembly has taken a decision to hold the economic conference of the organization in Tbilisi. This will be the first economic conference held in Georgia in the history of the OSCE. In addition, the organization has elected Joao Soares (MP, Portugal) Special Representative for the Caucasus, including for the Nagorno-Karabakh conflict.
The OSCE PA session held in Belgrade was attended by the delegation of the Parliament of Georgia, chaired by the Deputy-Chairman of the Parliament Gigi Tsereteli.
The high ranking officials of the Organization, the President of the Assembly, Petros Efthymiou, the incumbent Chairman of OSCE, the Minister of Foreign Affairs of Lithuania, Audronius Azubalis, the Director of the OSCE Office for Democratic Institutions and Human Rights (ODIHR), Mr. Lenarcic and the newly elected Secretary General of OSCE, Lamberto Zannier, along with the Members of more than 200 Parliaments from more than 56 member countries, considered the current challenges in security sphere. The members of the Georgian Delegation made speeches at the first plenary session.
Tsereteli noted that the personal active involvement of the OSCE Secretary General in seeking a solution of protracted conflicts in Georgia is important. Georgia is extremely interested in finding a peaceful resolution to the problem. He also emphasized the issue of restoration of the OSCE Mission in Georgia and the issues of solving IDP problems and confidence-building between the parties. Mr. Tsereteli thanked Mr. Petros Efthymiou for his recent visit, during which they personally witnessed the progress as well as the problems they still face. Gigi Tsereteli asked Mr. Zannier to visit Georgia for consideration of the current priorities at the place. He expressed his hope that active cooperation with the OSCE PA representatives and the resolutions and decisions will be taken into account.
MP Giorgi Kandelaki focused his attention on the terrorist acts and attempted terrorist acts during recent months in Georgia. He noted that at the Geneva Talks, Georgia offered cooperation to Russia to investigate the above-mentioned facts, though it was met with refusal. Kandelaki expressed his hope that the newly elected OSCE Secretary General will visit Georgia and help the Georgian side to convince Russia to cooperate in the investigation to prove that Georgia is not connected with the above-mentioned explosions.
The OSCE Secretary General in his speech noted that he will consider Georgian issues as a priority in his personal plans and action plans of the Organization.