Holy Synod meet to discuss controversial new religion law
By Gvantsa Gabekhadze
Tuesday, July 12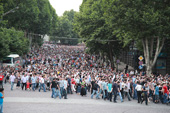 A meeting of Holy Synod was held on July 11, where some decisions were taken regarding the recent granting of legal status to other religious faiths in the country. Their full decision has still not been released to society; however the members of Synod have already made some statements.
"Holy Synod made explanations regarding law on denominations and took decision of compromising character that will benefit the country and the church,'' father Iobi told journalists after the Synod session.
Based on father Serapime, majority MP, Lasha Tordia was invited to the Patriarchate for juridical explanations of the law, "the authority representatives, while speaking with us, claim that other religions will not became equal to ours due to the law and granting them some property is not on the agenda as well. Mayor Gigi Ugulava said about this during his visit to the Patriarchate yesterday and Lasha Tordia today, we have also heard from them that changing of the law is impossible, however making some amendments can be carried out." He also stated that Georgian society and especially other faiths should understand that after the changes in the law, they would not be equal to the Georgian orthodox religion and that this point is written in the Synod's decision.
'Nobody had hidden motives. Deputies suffer from the situation most, as they fear the Patriarch of Georgia will have the feeling that parliament goes against the Georgian church,' Vice Speaker of parliament Rusudan Karvalishvili , stated
The deputy states that the bill on the status of religions does not cause doubts, as the state has a constitutional agreement with Georgian Orthodox Church, that is superior to civil code. "Amendments to the civil code cannot be compared to the constitutional agreement with the Georgian orthodox church. I assure you that all the issues will be investigated and there will be communication to clear up the misunderstanding", Kervalishvili said. Moreover, majority representative Mikheil Machavariani stated that Georgian church would have the same status in Armenia, "The Armenian Church said that it would have granted the same status to the Georgian Church in their country, as they had here in Georgia. After coming back to the homeland the Armenian Patriarch rechecked the issue with Armenian authorities and got confirmation that the analogy draft would be prepared in Armenia."
The majority of Georgian opposition parties continue appealing to the authorities to abolish the law, "a regime acting in the country has reached the culmination of moral annihilation and by the law adopted recently has declared war against God and the state, we appeal to the Parliament to hold a special session and to abolish the changes, "statement of Labour Party, reads.
At the same time, hundreds of Georgians are holding a peaceful protest in Tbilisi to expressing their unhappiness with the new law.