Problems being addressed in Dighomi
By Gvantsa Gabekhadze
Friday, July 15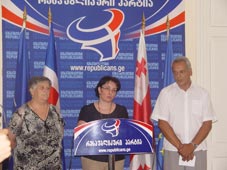 One of the lenders of the opposition Republican Party and the party's representative to Tbilisi City hall, Tinatin Khidasheli held a briefing regarding Dighomi district (in Tbilisi) on July 14. It was mentioned that the Republican Party has been trying to assist the village for years; however Tbilisi's ruling bodies and the district's parliamentary representatives have ignored the party initiatives and the residents' demands.
"We had a meeting two months ago, where the local residents were talking about drinking water, gas and sanitary problems at the school and kindergarten. In response to our statement made with the district's people, a majority official of Dighomi accused us of spreading disinformation, "Khidasheli has stated and mentioned that despite her application and the demand of the village people to meet with their representative publicly to the parliament it was ignored. At the same time the authorities stated that the problems would be solved."
Khidasheli again voiced those demands of the people, "a public meeting with the majority deputy of the district; Meeting of initiative group with Tbilisi Mayor; Chamber of control to start investigation how lands are being distibuted in the district; Detailed budget of the area to be known by the local residents, the priorities to be defined by the people."
According to the initiative group of the village, Khidasheli said, the working activities stopped in the village several days after it launched and now the village faces the same problems.