Lawyers say photographers' case "fully classified as secret"
By Mzia Kupunia
Friday, July 15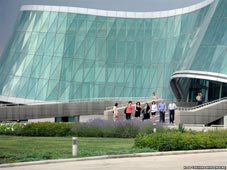 The documents included in the case of the detained photojournalists, charged of espionage for Russia, are classified as "secret", lawyers of the detainees said on Thursday. Their statement contradicts what the Georgian Interior Minister, Vano Merabishvili told the representative of Journalism Ethics Charter at the closed-door meeting the day before. Participants of the three hour long meeting told reporters later that the Interior Minister had denied allegations that the photojournalists' case was classified as "secret" and that the lawyers of the detainees were not allowed to speak about the details of the case.
"We told the Minister that at least the lawyers should be allowed to speak, and the Minister responded that it is a mere miscommunication. He said that the lawyers, apparently have not been told that they cannot speak about the case but they cannot speak only about the secret documents involved in the case," media expert, Nino Danelia told reporters after Wednesday's meeting. Declassifying the case was one of the main demands of the media representatives towards the Minister.
However, the lawyers of the detainees said that all materials related to the photojournalists' case are classified as "secret." Ramaz Chinchaladze, lawyer of the detained Giorgi Abdaladze, Foreign Ministry freelance photographer, said that they are allowed to speak only about the materials that had been aired on TV, and that all other materials are classified as "secret." "We have not received any documents. The fact that it is classified as "secret" means that we do not possess those documents. We only examined the materials, however we have no right to keep them," Chinchaladze said.
Lawyer of the President's personal photographer Irakli Gedenidze and his wife Natia, said that she signed a document that she would not disclose the details of the whole case. "The document I signed did not include specifically which materials were classified as "secret," lawyer Maia Khutsishvili said.
About an hour before the meeting of the media representatives with the Interior Minister, the Georgian Main Prosecutor's Office released a statement that the "publicity and transparency" of the detained photographers court proceedings would be "ensured." "In particular, the case will be discussed publicly in the court and any interested person will be able to attend the hearings," the statement posted on the Prosecutor's Office website reads "the prosecutor's office will request the court to discuss only small part of those evidences which contain state secret at the closed door hearings," it continues. Representatives of the Journalism Ethics Charter said that the statement of the Prosecutor's Office was a result of their "continued efforts."
According to the participants of the meeting with the Interior Minister, Merabishvili pledged that the additional details of the case and the titles of the secret documents involved in the case would become public during the court hearings.