President delights in further tourism renovation
By Gvantsa Gabekhadze
Wednesday, July 20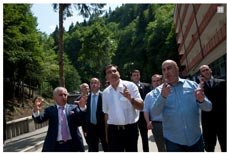 President of Georgia, Mikheil Saakashvili visited the renovated Georgian resort, Sairme, on July 18. He surveyed reconstructive works and spoke with the locals. As he has mentioned, staying at the resort would become available for all Georgians and that Sairme is attractive for foreign tourists as well. At the same time, the President underlined that the tourism development of the area will sustain locals' employment.
"I was here last year and I was very much disappointed to see the resort in such a bad condition. All that should have been improved, especially when a lot of Georgians wait for summer to visit the resort every year. The most important thing is that people are enabled again to come here and rest, thus the resort now is not targeted only for upper level representatives of the society. Herewith, tourists from neighboring countries come here and it is a very important step forward for tourism development and people's employment, "Saakashvili stated.
The President mentioned that despite the fact that a significant part of Georgian territories are being occupied and the country is in difficulties, the building process in the country is ongoing and according to him, this is a product of killing corruption in the country, " the Government no longer steal money and in this environment, a building process is really possible , " the President said and added that in the near future, three balneology resorts of Georgia would be reconstructed – Borjomi, Tskaltubo and Sairme. Serious construction works have already been launched in Borjomi.
In the frames of the Sairme rehabilitation, two motor roads and three roads for pedestrians have been constructed. Support walls on each bank of river Kabali were also built. At the same time, several parks and the areas of mineral water springs have been well built. European design street illumination was installed while canalization and water provision systems were restored. The outlook of Hotel Sairme was also changed after the rehabilitation and now it can host 150 guests. From 2013, thermal baths designed by German architects would be opened in Sairme.
The President also visited the village of Vartsikhe (the village and Sairme belong to Baghdati region) and newly constructed tourist complex Vartsikhe Villa there. The complex can host 50 tourists and there are two artificial lakes, a river and a forest there. The new centre is targeted towards Georgian and foreign tourists while the location is supplied by locally made products.
The locals thanked the President for the reconstruction and stated that the process is very profitable for the country, the region and for the people's welfare.