Prices on minibuses still increasing in Tbilisi
By Salome Modebadze
Wednesday, July 20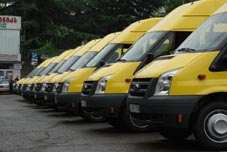 Prices on minibuses (marshrutkas) have almost doubled in the capital. After the official increase on transportation fee on minibus #4 other marshrutkas also took on renewed prices of 80 tetris from Monday. Tbilisi Minibus Company which controls the four tender-winner companies has taken responsibility for changing all the minibuses by January 2012. According to the official facebook page of Tbilisi Minibus all the old minibuses will be replaced by modern ones before the expiration of the deadline "but not in the near future."
People living in hard social conditions are clearly opposed to the changes and reminded the Government to fulfill their promise of keeping the old price; otherwise they said they would stop using marshrutkas and use buses instead. Drivers also complained that the passengers were either paying the 50 tetris as it was before or left the minibuses without paying anything for transportation but hoped that they would finally get used to the new prices. Republican member of Tbilisi City Assembly Tina Khidasheli accused the authorities of lying and demanded the introduction of a tariff schedule and the limit to increases on the transportation fee.
Calling the tender "another farce" MP Tina Khidasheli found it strange that the companies Tbil-car, Public- car and Tbil- Line were all created on the same day, that their documentations were confirmed by one and the same notary and that the difference in the times of their registration is only five minutes. Stressing that the members of the tender commission hadn't at all mentioned this fact, Khidasheli emphasized that Tbilisi Mayor Gigi Ugulava might have decided who would direct the network in Tbilisi long before the announcement.
Dimitri Lortkipanidze, the Secretary of the newly established Parliamentary oppositional faction
Unity for Justice
also criticized the unhealthy business conditions in the Georgian transport market. Accusing the Government of an attempt to monopolize the public transport sector, the MP spoke of the "exclusive rights" the Georgian business sector is using nowadays. As Lortkipanidze explained to
The Messenger
abolition of anti-monopoly service has encouraged so-called elite corruption in Georgia to intensify their illegal activities. Intending to express wide scale protest against the changes in the transport system, the MP accused particular businessmen of strengthening the Governmental unity by participating in one and the same tenders under different names.
Denying the rumours about the pressure on marshrutka drivers from City Hall and the company, Teona Nioradze Head of Tbilisi Minibus press service claimed that "no one had forced the drivers to increase transportation fees." Nioradze supposed that the increase of prices on minibus #4 might have become the reason of other drivers' "willful decision". "There were talks about the possible increase but we can't unfortunately control any other line except from #4," she stated.
Tbilisi City Hall also denied any contact with the unpopular decision saying it's not their prerogative but the drivers claimed the opposite to be true. In a statement released on Tuesday, the Mayor's office explained that the prices on minibuses are generally ranging from 30 tetris to 120 and this issue is not regulated by either them or the City Assembly. "We can't set transportation fees but we can create a competitive environment with the municipal transport," was stated.
Gia Okujava who had been in charge of minibus #100 for 15 years lost his business after the tender on minibuses. Now working as a driver, Okujava stressed that "the companies winning the illegal tender have no right to make any changes." As Okujava stated the increase on the transportation fee has been a means of gathering money for the Turkish company providing Georgia with the Ford minibuses. "These minibuses are worth Euro 20 000 and no one knows how effective they would work in our country, while the old Mercedes vehicles cost USD 12 000 and have better technical and economical benefits and have proved their efficiency and safety."