The President of Georgia at Bagrati Cathedral
Monday, July 25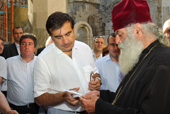 On July 22 the President of Georgia visited Kutaisi. Mikheil Saakashvili together with Archbishop Kalistrate saw the rehabilitation works at Bagrati Cathedral. The Italian architect Andrea Bruno that works on the rehabilitation of the cathedral together with Georgian architects was with them as well. As the President stated, it had been his long time project of rehabilitation of this cathedral.
"It is not a well thought out demagogy that the present government of Georgia anyhow opposes or doesn't assist the Orthodox Church. I want to respond and remind them that our government has already rehabilitated about 500 churches in Georgia. We follow the conditions of the Concordat… During this period we continued the same policy - we rehabilitated the churches, we were supporting the church in all the ways, among them from financial point of view," President said. "It turned out that Georgian Orthodox Church and the government of Georgia stand firmly, it was proved during the last week as well. The majority of political players couldn't manage to do it and it is very regrettable and hurts my heart. It shouldn't be like this. We all must be responsible for the stability and better future of our country," Saakashvili stated.
Speaking on the rehabilitation of Bagrati Cathedral Saakashvili said that rehabilitation works will be finished by the end of November. "This is a long time project of the Archbishop and us and it will end with the support of his prayers. He as well does educational works in Kutaisi and accordingly in his Eparchy as well. We aimed at the rehabilitation of churches. We already rehabilitated Gelati Academy and now a beautiful dome is being constructed with colorful tiling. You also know that churches had been rehabilitated around Kutaisi, for example Motsameta Monastery rehabilitation is over. The Archbishop as well constructed new churches in Kutaisi. Besides this he works hard to support children and disabled persons and we all declare our support to him," Georgia's President said.