EU Commissioner encourages Georgia on European path
By Etuna Tsotniashvili
Monday, July 25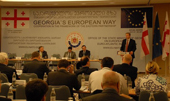 Stefan Fule, the EU commissioner for enlargement and European neighborhood policy said democracy in Georgia needs to be consolidated, inclusive and there needs to be a more tolerant and pluralistic political culture. As an example he named the forthcoming parliamentary (in 2012) and presidential (in 2013) elections of Georgia which according to him "will be important test cases for Georgian democracy," and underlined that prior to the elections, work on the electoral system reform should be continued.
"Next year's parliamentary elections and the 2013 presidential elections demand a level playing field to be truly successful. These elections will be important test cases for Georgian democracy. In the meantime, all the political forces and also civil society representatives should engage together on the reform of the electoral system," the EU commissioner stated at the 8th International Conference on 'Georgia's European Way' in Batumi on July 22.
Speaking on the judiciary he said that "political influence over the judicial system cannot be tolerated anywhere and this is something the European Union monitors closely." "Here also I believe there is room for improvement in Georgia," Fule said.
The EU commissioner recalled the May 26 opposition rally dispersal saying that what happened there "must never happen again." He emphasized the need for further investigation of these events.
"Further investigation into these events is needed to ensure that those responsible for excessive use of force and losses of human lives are held accountable for any eventual wrong doings," Fule stated.
Speaking of the socio –economic level of the country, the EU Commissioner said that Black Sea resort Batumi is "a great example of how Georgia is developing swiftly." Although Fule said there is another Georgia beyond the splendid boulevards of Batumi and this is a Georgia that needs sustainable growth, Georgia that needs to reduce social and regional inequalities, a Georgia that needs to create jobs for its workers and higher standards of living for its people. According to him Georgia still needs many reforms in order to follow the European way.
"If Georgia seriously chooses to pursue this way, it needs to undergo very comprehensive and resolute reforms. But at the end of this journey, there will be sustainable, balanced and long term development for everyone," he said.
On Georgia's conflict problems Fule emphasized that the EU supports the security, stability, sovereignty and territorial integrity of Georgia. However, the EU commissioner stressed that in order to reach reconciliation, serious and genuine engagement with the communities of the breakaway regions of Abkhazia and South Ossetia is essential, adding that Georgia should play a crucial role to build bridges among the sides.
"The European Union and the international community can do their part, but it is mostly up to Georgia itself to find ways to build bridges. Isolation is no alternative. Georgia must show to these communities, now divided by conflict, that they are an integral part of Georgian society and will also benefit from closer political approximation and economic integration with the European Union," Fule stated. "Let us do everything possible together so that people from both sides of the Administrative Border Line can again safely travel, trade and invest beyond that line. It is a way how to extend the benefits of the European path to all communities, to all Georgians," he added.
In the frameworks of this conference President Mikheil Saakashvili gave a speech where he said each step made by Georgian government was aimed at getting closer with the European Union. He said it was done not only because the EU or Georgian government took such a decision, but because it was the choice of Georgian people. The President said he was an optimist due to Georgia`s great progress in European transformation and integration.
"Georgia is successful in the frames of the European neighborhood policy and it successfully implements the terms of the EU Associate Membership Agreement," the President said.
Prior to this conference The President of Georgia met the European Commissioner tete-a-tete. The sides discussed active issues of Georgian-EU cooperation, among them the importance of free trade and further liberalization of visa free regime. The necessity of making the role of EU more active in security matters within Eastern Partnership was noted as well.
After the official meeting Saakashvili took Fule sightseeing in Batumi.
They looked over Adjara seashore from a "Sesna" type airplane. The President himself flew the plane. At Batumi airport the President showed the European Commissioner those projects that are planned to be realized in Adjara and other regions of Georgia.