Georgian youngster missing after Norway massacre
By Salome Modebadze
Monday, July 25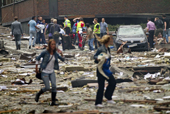 At least 93 people were killed and several are still missing after an armed attack on young people on the Norwegian island of Utoya. Two Georgian girls Natia Chkhetiani and Tamta Liparteliani from NGO Young Socialists of Georgia (YSG) were among the 700 participants of the summer camp organized by the youth wing of the Norway's ruling Labor Party. Natia Chkhetiani, Chair of Kutaisi organization of YSG has been safely taken to Oslo, the capital of Norway, while her friend Tamta Liparteliani, Secretary of the International Committee has not been found yet.
As Chkhetiani told
Rustavi 2 TV
on Saturday that the last time she saw Tamta was shortly before the shooting began. "Tamta and I had left the conference hall and returned to our room. Then I went to the lavatory and when I came back Tamta had already gone," Chkhetiani said in a phone interview from Oslo. Having immediately returned to the conference hall the YSG Chair heard shots and everyone was in panic. Chkhetiani thought of jumping in a lake to escape the bullets but when a boy was shot she changed her mind and started hiding from one place to another along the rocky riverbank.
As Irma Ugulava PR of YSG told
The Messenger
Natia Chkhetiani and Tamta Liparteliani attended the annual youth camp with seminars and presentations aimed at exchanging visions on various problems worldwide. "Natia is at the hotel in Oslo, she had to leave the country on Sunday but her flight was postponed. She's now waiting for the Chairman of YSG and they will start searching for Tamta in hospitals," Maguli Chkhetiani, Natia's mother told us.
A 32-year-old Norwegian right-wing fanatic Anders Behring Breivik was dressed in a police uniform when he attacked the youngsters. Breivik gave himself up to armed officers when they arrived on the small island of Utoya in a lake about 42 km northwest of Oslo. The detainee who admitted the crime believes his acts were atrocious but necessary. "He has said that he believed the actions were atrocious, but that in his head they were necessary," his lawyer Geir Lippestad told the Norwegian media. The criminal who wanted a "crusade" against the spread of Islam posted a video on YouTube where he wore a scuba diving outfit pointing an automatic weapon and also wrote a 1,500 page electronic manifesto which said: "once you decide to strike, it is better to kill too many than not enough or you risk reducing the desired ideological impact of the strike."
Hundreds of people gathered near Oslo's Cathedral to lay flowers and light candles on Sunday. King Harald of Norway and Prime Minister of Denmark Jens Stoltenberg were among mourners at a Sunday service, where the PM emotionally announced the day of "a national tragedy". President of Georgia Mikheil Saakashvili expressed his condolences to the Norwegian Government. "This terrible atrocity once again reminds us that terrorism remains one of the main common challenges of the world today; thus we have to strengthen our common efforts in order to ensure peace and stability in the world," Saakashvili stated.
The family of Tamta Liparteliani does not have any fresh information about the young lady but the search operation continues on the island. As Tamta's mother Leila Asatiani said on Sunday her daughter might have been at the hospital among the other missing students as Natia Chkhetiani could not identify her among the victims. "We don't unfortunately have any news but the Georgian embassy promised to do everything possible," she added while Georgia's Consul to Denmark and Norway Nino Kochorashvili promised that the authorities would do their best to find Tamta.