Saakashvili inspects Intel factory in Tbilisi
By Messenger Staff
Tuesday, July 26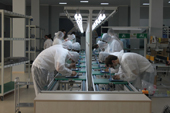 On July 25 President Mikheil Saakashvili visited a joint factory of Georgian Algorithm and international company Intel in Tbilisi.
The company will produce first Georgian net books, which under the presidential program of education; will be handed over to every first-year pupil in Georgia`s schools. The factory will produce 300,000 netbooks this year.
The President said this is a 21st century project. According to Saakashvili everyone will be given netbooks as a present from the new academic year. He says that Georgian society will see the result of the project in short term and the long-term result will be in 10-15 years.
Saakashvili states that the new generation will grow with different thinking. Computers are being built and programs installed for the first grade pupils.
"We are attending a historical process indeed, because this is the first factory of high-technologies in Georgia. Well, we actually had small progress in modern technologies, mostly in the aviation-factory of Tbilisi, but this factory is the `first swallow` in Georgian high-technologies sphere," President said and added every first-year pupil, his younger son among them, would be presented with net books this year.