Gilauri encouraged by upturn on Georgian exports
By Salome Modebadze
Wednesday, July 27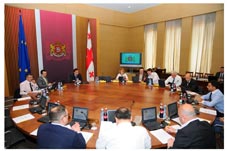 The rate of import-export in Georgia is developing in a positive direction, Prime Minister Nika Gilauri announced at the Governmental Session on July 26. A 44% increase of exported vehicles, fusion, gold and scrap-iron to Azerbaijan, Kazakhstan and Turkey for the last six months which exceeded USD 1 billion represents a "record figure" for the country. "The Increase of exports is very important for our country because the negative balance of import-export had been a problem for our economy for many years," the PM said hoping that intensive cooperation with the export markets would gradually eradicate the negative trend.
While 36% increase of imported goods came from the European Union, Georgia's trade relations with neighboring or nearby countries Ukraine, Turkey and Azerbaijan are still strengthening. Welcoming the dramatic decrease of inflation in Georgia for July, Gilauri stressed that this figure would range from 8.5 to 9%. Talking of inflation as a massive problem for not only the public sector but society, PM announced that the 14.3% annual indicator of inflation in May has gradually decreased in the following months thus it would still continue decreasing in future. "The Government had been foreseeing such changes. That's why we distributed food and electricity vouchers when inflation had reached its peak and people greatly suffered," Gilauri said stressing that the decrease of prices on the world market would affect the rate of inflation not only in Georgia but the whole region.
Introducing the six-month activities of her office, Vera Kobalia, the Minister of Economy and Sustainable Development said the number of tourists in Georgia has increased by 45% this summer. The introduction of direct flights to Georgia seems to have encouraged visitors to spend their summer in Georgia. Tourists from Turkey, Azerbaijan, Armenia, Russia and Ukraine are also joined by people from Iran, Israel, Kazakhstan and China this year.
The number of visitors has reached 1.2 million for the first six months but the Minister hoped that this figure would reach 3 million by the end of the year. Emphasizing how the hotels are full of guests, Kobalia forecast that August-September would be the most successful period for the Adjara seaside with crowded hotels and family hostels. "This all shows what a wonderful opportunity it is for potential investors to carry out new investments in the region and build new hotels," the Minister stated.