Georgia's new South American partner
By Messenger Staff
Monday, August 1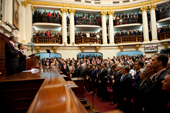 Peru is expected to become Georgia`s new partner in development and cooperation. President Mikheil Saakashvili gave an interview on Peruvian TV stating that a Georgian delegation will soon travel to Peru for talks at the governmental level. The President of Georgi paid an official visit to Peru last week with his spouse, Sandra Roeloefs, and attended the inauguration ceremony of Peru's new President Ollanta Humala in Lima. Georgia`s President is the only leader outside of the region who was invited to the ceremony.
He talked about the prospects of cooperation between the two countries. "The new Peruvian President`s speech yesterday was very constructive. He talked about issues like development, eradication of poverty and fighting corruption. These two countries also have great capacities for deepening business relations and cooperate in fields such as energy, tourism, agriculture and commerce," Saakashvili said.
According to the Georgian President's administration in Lima, Saakashvili also met with Alejandro Toledo, Peru's President from 2001 to 2006 as well as the President of Panama, Ricardo Martinelli.
President Saakashvili also held talks on future cooperation with the Mayor of Lima, Susana Villaran, who became interested in the reforms carried out in Georgia and in the successes achieved by the country.
Leftist Ollanta Humala was sworn in as Peru`s President on Thursday (July 28), taking the reins of one of the world`s fastest-growing economies as poor voters increasingly demand a share of the country`s boom. The former military officer, 49, vowed to eradicate poverty and social exclusion. He defeated the right-wing candidate Keiko Fujimori in June`s second round.