Tbilisi State University confers 3000 BA Degrees in 2011
By Messenger Staff
Monday, August 1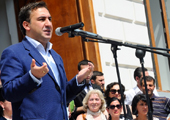 On July 30, 2011 Tbilisi State University held its annual graduation ceremony, conferring BA degrees to 3000 students.
Nika Gilauri, Prime Minister of Georgia; Dimitri Shashkini, Minister of Education and Science of Georgia; Aleksandre Kvitashvili, Rector of the University, as well as representatives of the academic sphere. attended the celebration event.
Prime Minister Gilauri said that graduation is one of the most important days in student's life. He pointed out that this "Class of 2011" is a significant generation, one that passed entrance exams without bribes and who took the university entrance exams using their own knowledge. "As you have paved your way we expect more things from you--we expect that you will do much more for Georgia and for yourselves…through human resources, hard work and knowledge it is easier to develop a successful and economically well-developed state..."you'll make Georgia the most successful country in the region and in the world as well," Gilauri told the students.
Gilauri gave some advice to the new graduates: "What is my advice? Just to love the job you are doing and try to work 1 or 2 hours more than asked. Believe me you will succeed." During the event, top graduates were awarded special Certificates of achievement. In addition to the students' families, Georgian public officials, public figures, professors, and representatives of organizations congratulated the graduates on their accomplishments and wished them success in careers.