Georgia enters the 21st century with new ID technology
By Salome Modebadze
Tuesday, August 2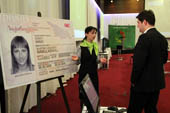 Electronic Identification Cards were awarded to the first ten new owners in Batumi on August 1. The innovative ID cards are made in Germany and contain the biometric data of Georgian citizens. They are protected from falsification by internationally-approved safety standards, providing online identification of the owners. According to the Deputy Minister of Justice Giorgi Vashadze the electronic card is aimed "at simplifying our everyday lives" and can be used for key activities in the public and private spheres but also online from any part of the world.
The House of Justice in Batumi received its first visitors from 8 a.m. on Monday. Tinatin Liparteliani from the office received the first client of the day. Welcoming the innovative cards Liparteliani emphasized the universal functions of the card that unites various official documents and simplifies access to different services. "The card simply makes everything easily accessible for me-- that's why I would recommend everyone to have it," Nino Tevtidze said, handing her photo and invitation card to the operator.
The compact ID card can be used for online banking, insurance policies, municipal transport, and other needs (see: http://intpass.cra.ge/eIDCardMain.aspx). Vashadze promised the Ministry will add several new services to the card as of September, 2011. "This card will simplify our lives step by step so that the people won't have to go to different offices but work instead with the necessary documents online from their homes," Vashadze added.
The ID cards will be generally issued within ten days after application and cost GEL 30; those who want to have the cards quicker can pay GEL 65. Around 900,000 socially unprotected people will receive them free. Later on the same evening the House of Justice held a ceremony dedicated to the presentation of the ID documents, showing a film "Georgia of the Future" about the country's technological progress. The show was accompanied by a concert given by Nino Katamadze, a popular Georgian signer, then foreign partners of the Ministry presented an impressive fireworks show.
Katamadze, one of the first ten owners of the innovative ID card welcomed the new technology for a modern Georgia. Sharing amazing melodies from her last album, the singer called the IDs a step forward for the country, making Georgia a real player in 21st century technologies.