Popular festival revives Tusheti
By Ernest Petrosyan
Thursday, August 4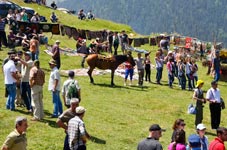 Tusheti National Park hosted the traditional festival of games and cuisine Tushetoba on July 30. The event was attended by representatives of the Georgian government, accredited ambassadors, representatives of international organizations, and local and foreign tourists. The celebration opened with a khinkali and cheese festival in Zemo Omalo village, where guests took part in khinkali-making. This was followed by the folk music concert. Guests of the festival visited local museum, took part in traditional crafts-making, such as sheep shearing, and enjoyed various games and competitions. The celebration continued in Qvemo Omalo at the Agency of Protected Areas, where the festival closed with a fashion show of Georgian designer Datuna Sulikashvili and a concert of folk-rock band Frani. The aim of the festival was to boost tourism in Tusheti and promote culture and traditions of this mountainous region. The festival was organized by the Agency of Protected Areas and the Municipality of Akhmeta, with assistance from UNDP, Fauna and Flora International, GEF and EU.
"Tushetoba becomes a traditional summer event. We organize it to promote Tusheti and enhance tourism in the region, to put Tusheti on the tourism map of Georgia. Travelling here is quite challenging as the roads in these parts are not easy. But those who take an effort soon realize that this is one of the most beautiful areas of Georgia. Its climate is unique to compare with the other mountainous regions, and local people are extremely hospitable. More and more tourists are visiting every year. There were up to 6 thousand in 2010 but this year we are expecting over 10 thousand," stated MP Petre Tsiskarishvili.
"The creation of protected areas in Tusheti helped the region re-discover its history, culture and traditions. The protected area provides tourists with certain guaranties of quality service. Tourists do not always have a clear picture of what to expect from their trip. At least now they know that Tusheti can offer decent hotels and qualified guides. The protected area will revive the entire region. As for the infrastructure, travelling on those roads is indeed fascinating but quality of the roads should be of course improved", stated the Minister of Environment Goga Khachidze.
Tusheti attracts attention of international donor organizations. As Deputy Representative of UNDP Georgia Inita Paulovica explained, UNDP's pilot project shows that sustainable management of the Tusheti protected area helps protect environment and promotes sustainable and equal development in the region. It boosts environment-friendly tourism and provides better opportunities to the local people who live in such a remote mountainous area. "The region may die if people do not stay here. To assist the government in developing a comprehensive strategy of regional development, UNDP plans to conduct the assessment of needs and risks faced by people in Tusheti," Paulovica said.
Tusheti is a mountainous region in north-east of Georgia. It is one of the best mountain resorts with gorgeous environment, culture, architecture and cuisine.