Crime stats questioned as another new police station opens
By Gvantsa Gabekhadze
Thursday, August 4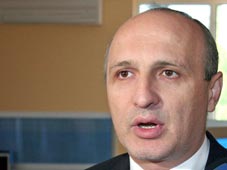 Crime levels have been significantly reduced in the country and now law enforcers are starting to focus on providing a service to the people, Interior Minister, Vano Merabishvili stated while opening a new police station in Isani- Samgori district, on August 3.
120 officers will work in the new office, which will serve the two large districts of Tbilisi.
The new police station is different from other offices with its functions, as along with patrol police, the regional branches of the prosecutor's office and the Constitutional Security Department will also operate from inside the new building.
This is the sixth new police station which has opened in Tbilisi during the past few months.
"I am very glad that Georgia has become one of the leading countries with a low criminal level. We have had serious success against criminality and serious success against drugs. Almost all types of crime has been significantly reduced in Georgia," Merabishvili, said.
As the representative of New Rights, Manana Nachkebia, told
The Messenger, "Criminal offences have been reduced in the country, however it does not mean that there are no problems in this field. The fact is that there is economic crime in the country related with the ruling team, which is not punished, this is the current reality," Nachkebia stated and underlined that currently the Georgian police is heavily politicized.

As analyst Irakli Sesiashvili told The Messenger, what Merabishvili stated was only a partial estimation of the criminal situation, "if crime has really been reduced in the country, why is the number of Georgian prisoners catastrophically increasing from year to year? At the same time, if Merabishvili says that the police officers are mainly engaged with servicing people and if everything is ok, why is there a need for so many police offices in each district. Nearly all of these are extremely modern police offices, equipped with modern cars and technologies, when people around are starving, "Sesiashvili stated and mentioned that, "I welcome the fact that so called lawful thieves do not exist, however their functions have been taken by the current authorities, which are terrorizing business and this is more dangerous than those petty thieves, as they were not protected by law, and the current authorities are."