Saakashvili mourns loss of Georgian girl in Norway massacre
By Gvantsa Gabekhadze
Thursday, August 4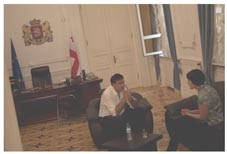 The President of Georgia met with the Georgian survivor of the terrorist act in Norway, on August 2 and stated that the punishment of the Norwegian gunman might not be adequate.
"I have just met with Natia Chkhetiani and I am really surprised how balanced she was after such hell in Norway. Of course, she feels what has happened there, however the fact that she has survived is the greatest happiness, " Saakashvili stated and called the killer a beast , "A beast is a beast everywhere, no matter whether it is in Georgia, the South Pole or Norway. That creature, who has done this is a real animal - I can't call him otherwise."
The President has recalled that period when he was in Norway, "I have seen Norwegian prisons, which look more like a sanatorium. I do not even know what kind of sentence this beast should serve in that 'sanatorium' and whether it will be an adequate punishment for what he has committed," Saakashvili said.
Saakashvili again mourned with the killed Tamta Liparteliani's family and said that what had happened was "a huge tragedy" for Tamta's family and for Georgia.
Anders Behring Breivik, who has confessed to the bombing in Oslo and the shooting attack on Utoya Island, has been charged by police with terrorism, which carries a sentence of up to 21 years. A Georgian girl, Tamta Liparteliani, 23, was killed in the attack. Her body is expected to be brought to her native Kutaisi in western Georgia on August 4.