All Schoolchildren from Socially Vulnerable Families will receive Textbooks free of Charge
Friday, August 5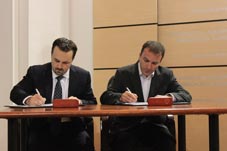 In the frames of the program "Unified Georgia without Poverty", Georgian government will provide all schoolchildren from socially vulnerable families with school textbooks free of charge. This year, Georgian Post will also get involved in the process of distributing the textbooks among schoolchildren. In this regard, Minister of Education and Science of Georgia, Dimitri Shashkin and Chair of Supervisory Board of Georgian Post, Kakha Baindurashvili signed a memorandum.
This initiative will provide equal learning opportunities to all family members and serve the purpose of assisting families living below the poverty line.
In 2010-2011, all schoolchildren from first to twelfth grades got the textbooks free of charge. Last year, books were awarded to families whose rating was less than 57 000. For the 2011-2012 academic year, textbooks will be provided to I-VI graders whose families rating score is 70 000, as to VII and XII graders, they will be awarded the textbooks in case their family rating score is 57 000.
Georgian Post will start the process of distribution of textbooks from September 1st and finish it on September 14th. Schoolchildren will receive books at home. Afterwards, these textbooks will be kept at the library and other school students from socially vulnerable families will have an opportunity to use them.
In the frames of the above mentioned memorandum, Georgian Post offers a new service to the parents of the school students - parents can subscribe textbooks via post and Georgian Post will deliver them directly to their home.