Agricultural Minister anticipates glorious Georgian harvest
By Gvantsa Gabekhadze
Friday, August 5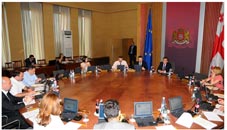 The Georgian Government is preparing for a vintage 2011, according to the Minister of Agriculture, Bakur Kvezereli. He was speaking during the Government sitting on August 4 , and he announced that everything is in place for the harvest across the country.
"From August 22, factories will be able to collect grapes. We will have good harvest this year, which enables the country to have good macroeconomic parameters, " Kvezereli stated and mentioned that the situation regarding fruit and cereals is much better this year.
"Wheat crop consists of 75 000 tons this year, which is a significant growth compared to the last years, " Kvezereli said and underlined that maize drying thrifts will be opened in Lagodekhi and Abasha regions from September 15. As the Minister said, such kinds of drying thrifts are crucial for maize export, "as maize would be accumulated and prepared for export."
As the Prime Minister, Nika Gilauri, stated farmers would be given detailed information concerning the drying thrifts from TV advertisements and mentioned that Georgia is ready to carry out the export of cereals. According to Gilauri, wheat crop has also seen a marked increase on previous years, "now we will be able to export maize for the first time, as in the former years we produced only such an amount of maize, which was enough for domestic usage, " Gilauri said and at the same time underlined that the rate of inflation was significantly reduced in July and was now at 8.5%, which was a very good figure. He also supposed that such a rate would be preserved during the following months.
Economic analyst, Gia Khukhashvili described the projects carried out recently by the current Government of Georgia regarding the country economy as "ironic" and mentioned that such activities would not bring positive outcomes, "systemic changes are needed. First of all a concurrent environment should be created for farmers. The Georgian market is full of useless and low quality foreign products. The custom fee should be set for those products which will allow Georgian natural products to thrive in better conditions. Also, those foreign products should be examined by the Food Safety Service before they are brought within the country, " Khukhashvili told The Messenger and mentioned that the Minister of Agriculture, "who has far less competence regarding agricultural issues compared to Georgian farmers, should give up teaching them when to sow and when to harvest. The Ministry can just allocate a sum based on the farmers' needs and the rest would be done by the farmers."