Facility in Chkhuteli bringing medical services to remote villagers
Monday, August 8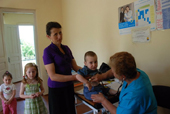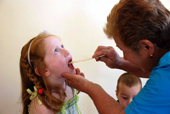 A young man of 30-something, with mild sunburn, calloused hands and soiled nails, is patiently waiting for a doctor to appear. His hands can still continue working but his face had been red, had been sweating a lot and he was short of breath sometimes. Malkhaz has had about a 2 km walk from the village of Laskhana to an outpatient facility in Chkhuteli to discover that he has got pneumonia and needs to receive medical treatment.
Two km is not a long distance to walk for a farmer like Malkhaz. But access to the primary medical services was a serious challenge to more than 200 other people living in this remote village, Laskhana. The only medical point within reach before was an old ambulatory sitting in the building of Chkhuteli Sakrebulo, a local self-governance unit, some five km away.
The new outpatient facility which will serve Malkhaz and the population in three villages opened its doors last autumn. It was built with joint funding from CARE, an international development NGO and Tsageri Municipality under the project called Strengthening Community-based Initiatives for Poverty Reduction in Racha-Lechkhumi and Kvemo-Svaneti Region of Georgia (COMBI).
"We held a community meeting to let people define what their priority needs were. Some 40 people were attending and they decided that access to the medical services was of critical importance and were willing to mobilize people and participate in the construction work should external funding support was provided," recalls Tamar Melkadze, COMBI project director. "One objective of the project was empowering people to make decisions and lead the change on the one hand. On the other we were working with the local Community-based organizations to strengthen them and enable them to communicate with their local government and advocate for their needs," she added.
The collaboration was fruitful as Tsageri Municipality allocated 15 percent of the costs of the reconstruction works, another 15 percent came in the form of voluntary labour force of the community while CARE committed the remaining 70 percent or some 21,500 GEL to rebuild the medical facility. It has an electrocardiogram device, can offer lab tests for patients with diabetes, offers free vaccinations to children and various such type of services. The facility is currently serving some 150 patients a month.
The local CBO called Muri, which led the construction works, also chose the most optimal location to make it easily accessible to 1030 people living in three neighboring villages. The location becomes especially important in winter in this region which is prone to frequent landslides. Winter is harsh here and heavy snow often blocks the roads. Thus, a visit to a doctor has a life-saving significance for the community during these times.
The outpatient facility is one of the community initiatives which were implemented under the COMBI project in this region. The neighboring villages of Okureshi and Kheledi decided to use the funding to repair the roads which were damaged by stone falls and rain and would often cut their population off from the rest of Georgia.
Talking about the community's participation in the project Khatuna Kuraspediani from Kheledi community-based organization (CBO), notes: "It was difficult initially to gather people and involve them in the road repair works. They were quite skeptical that something tangible would be really done. But people have become much more confident that they can change something for the better if they work together, if they join their voices and do something on their own and also get others do something for them."
Khatuna Kuraspediani and other members of her CBO underwent trainings in taxation issues, budgeting, project management and proposal writing, to become competent enough to manage the road repair projects and to continue functioning after the project lifetime.
"We found several bidders to discover the lowest prices for construction materials which we brought from Kutaisi. The workers were hired on the basis of contacts. It was all so different. It was a matter of oral agreement and negotiations before," she added.
Mamuka Letodiani, Chairman of Tsageri Municipality Sakrebulo, CARE's project was first serious, large-scale initiative by an international NGO in this region. "Funding the local infrastructure projects are of critical importance given high migration rates in Tsageri and the regions like that," he added.
"The idea of the infrastructure projects so called "community level poverty reduction projects" is to provide local government staff with experience of engaging with CBOs by arranging for joint working opportunities. Both sides the CBOs and the local government used these opportunities successfully for the benefit of their communities," said Tamar Melkadze.
Two more such projects are being funded this year, including a water supply system rehabilitation and veterinary service centre in Usakhelo and Orbeli communities.
The project COMBI is funded by the European Union (EU) and Austrian development organization Cooperation and Cooperation for Eastern Europe (ADC). With a total budget of 500,000 Euro, it aims to bring benefits to around 4,000 individuals (1,000 households) in five targeted communities in the Tsageri Municipality including Orbeli, Usakhelo, Okureshi, Chkhuteli and one in the Lentekhi municipality including Kheledi.
The views expressed in this publication do not necessarily reflect the views of the donor organizations.