Medvedev interview stirs memories of August war
By Etuna Tsotniashvili
Monday, August 8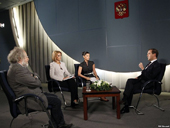 On the third anniversary of the Russian-Georgian war Russia's President Dmitry Medvedev gave a 55 minutes-long interview to Georgian and Russian media outlets and made several controversial statements which have since been the subject of heated debate for Georgian as well as foreign media.
The major topics of the interview covered Russia's WTO entry, recent US senate resolution, the Russian-Georgian war and criticism of Georgian President Saakashvili.
Medvedev stated that top United States officials played a key role in events that kicked off the war, adding that the recent US Senate resolution on Georgia reflected "the personal tastes of certain elderly members of the Senate." "I believe that these statements of the Senate are not based on anything. They reflect the views of some of its senile members, which have a liking for certain people for their internal reasons. This is a foreign parliament and it is its own business. I don`t care about them or their rhetoric," he said.
Medvedev said that the Georgian President made the decision to stage a military assault to retake its breakaway South Ossetia region, sparking the war with Russia, after then-US State Secretary Condoleezza Rice visited Tbilisi.
"Quite an obvious thing for me - after I later analyzed the situation - was the visit of the U.S. Secretary of State Condoleezza Rice to Georgia. After that, my Georgian colleague stopped communicating with me, he stopped writing, calling, stopped all connections. Probably that was the time when new plans (to go to war) appeared, and they were put into effect," Medvedev said.
Georgia has slammed Medvedev's statements. Shortly after this statement the press speaker of the Georgian President held a briefing where she voiced the georgian president's opinion that it was "alarming", that the Russian President "still justifies with cynicism, the ethnic cleansing and occupation" carried out against Georgia.
"We've once again listened to the Cold War-era phrases about a Western conspiracy against 'Soviet Russia'. All of this causes the concern of Georgia and not only of Georgia. It is regrettable that the President of a neighbouring country speaks in such a manner not only about Georgia, but about other neighbours and their statehood as well and expresses complete disrespect towards partner countries," the Georgian President's spokesperson said.
Political analyst Nika Chitadze says that mentioning US senate members in non diplomatic terms is because Medvedev did not have any legal lever against the US senate resolution. "He showed his weakness in this statement and it happened because he did not have enough arguments regarding it. When you make non polite statements it means that you do not have arguments. When you are a strong politician you should be able to explain why occupation is not occupation from a legal point of view and if there exists concrete evidence which justifies the action of the Russians during the war," Chitadze said.
"The Russian authorities said that the USA reset policy in fact failed. At the same time in Russia the elections are nearing and the Russian authorities are to provide the special policy and to look for the external enemy. For Russia have no peaceful and developed relations with USA and with West, and I think that following this they are making such sharp declarations. Dmitri Medvediev makes declarations not against Saakashvili and Georgia but against USA. It seems like in Moscow the USA policy is criticized. What influence will it have on our relations is difficult to predict. In any case this will not bring any positive changes," thinks political analyst Kakha Gogolashvili.
Russia's WTO entry
The Russian president also urged Georgia not to block Russia`s entry to the World Trade Organization (WTO), saying Russia`s chances of joining the WTO this year were high but it still faced political obstacles from Georgia, which has threatened to use its veto to block Russia`s accession unless a dispute over customs control is resolved.
"If the Georgian authorities show wisdom in this case… I think it could become a point of contact between our countries, if not quite a turning point in our relations. We could use it to re-establish trade and economic relations and after that, we may go on to our diplomatic relations," Medvedev said.
Medvedev said that in the Swiss-mediated talks over WTO, Georgia was trying to push the issue of control of border-crossing points and their monitoring by EU.
"Our position is simple: if you want to know about movement of goods, including about transit goods moving through Abkhazia and South Ossetia, we are ready to provide such information in digital form, in state of the art form. I have agreed on that with the Swiss President and I discussed the issue with President Obama yesterday. In this regard we are ready to accept the Swiss proposal," Medvedev said.
Analyst Gogolashvili says that Russia saw Georgia's ability in reality. According to him Medvedev wrongly interpreted Georgia's position in regards of Russia's joining the WTO. Medvedev said if Georgia blocks Russia's entry into WTO why would they want to restore diplomatic relations. According to him Georgia will not get any benefit if it is not followed by real jobs and relations. Formally restoration of relations between Georgia and Russia will be beneficial only for Russia. "If it happens, Russia will state that Georgia accepted the occupation of its territories. The analyst also mentioned that Russia understands better Georgia's ability and its resources on the international arena and it can veto Russia.
Another analyst Vasil Chkoidze says that Russia wants to join the WTO and not Georgia and if this issue is depending on Georgia, Russia should have tried to persuade Georgia not to vote for it. But according to the Russian president's statement, we should give them the right to join the WTO and in addition we should be grateful for them. Notably in Medvedev's statement it seems an imperialistic mentality which the Russian political elite has today," Chkoidze said.
"Mr. Saakashvili is a person I'll never shake hands with"
Medvedev again reiterated that he would not have any contact with Saakashvili and he will never shake hands with him. Medvedev explained the reason why he turned down Saakashvili's proposed dialogue with no precondition. "I did it only because Saakashvili had committed a crime against the Russian Federation and its nationals. Hundreds of our citizens were killed on his orders, including Russian peacekeepers. I will never forgive him for that, and I will not talk to him…Mr. Saakashvili is a person I'll never shake hands with," Medvedev said. The Russian president said that he realizes that Saakashvili is a legally elected president but expressed his confidence that sooner or later Saakashvili will no longer be president of Georgia and whoever becomes the next president in Georgia, they will have a chance to restore positive and beneficial relations with Russia. Commenting on a possible march on Tbilisi during the war, Medvedev said that their mission was not to capture Tbilisi or any other cities in Georgia and their goal was to halt the invasion. "He [Saakashvili] should actually be thankful to me for halting our troops at some point. If they had marched into Tbilisi, Georgia would most likely have a different president by now," Medvedev added. He said that overthrowing Saakashvili was not part of the plan "although it was very easy to do."
He said that Russia has "fulfilled 100 percent" its commitments under the August 12 ceasefire agreement; he, however, acknowledged that there was disagreement on this issue between Russia and EU, "but there is nothing you can do about it."
Medvedev said that Georgian President, Mikheil Saakashvili, should be tried by an international tribunal because of unleashing war in South Ossetia in August, 2008; he, however, also said that such a scenario was not likely.
"I think, that it was a flagrant violation of norms of the international law; but taking into consideration that it would hardly be possible to rely only on Russia's position, I think, creation of such a tribunal is not real right now. So history will conduct final trial and interim trial will be conducted by the Georgian citizens - they will decide how and in which direction to proceed," Medvedev said.
One of the leaders of the parliamentary majority David Darchiashvili says that he has become tired of commenting on Medvedev, Putin and Lavrov as they are representatives of inadequate authorities . "other people will come and see that If Russia continues acting against international law it will have a crisis itself, but before it whether it will be Putin, Medvedev or Lavrov I am tired of commenting on them," he said.