Tskninvali blames Tbilisi, Georgia slams Russia for August conflict
Monday, August 8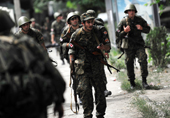 On the eve of three year anniversary of the August war between Georgia and Russia the de facto leader of Georgia's breakaway region South Ossetia, Eduard Kokoity said he has "mixed feelings" about August events. First of all it is "pain and grief", Kokoity said, blaming the Georgian side of starting the military activities in August 2008. At the same time, the de facto President said August of 2008 was a "finalization of our long-term fight for freedom and independence." He was referring to the recognition of South Ossetia as an independent state by Russia shortly after the 5-day war, which was followed by the recognition of Georgia's breakaway region by Nicaragua, Venezuela and Nauru.
Kokoity told Cominf.org news website that a "threat" from the Georgian side "still exists", calling Tbilisi a "treacherous" neighbour. "Georgia has restored its military potential and now it is higher than before August 2008. At the same time, the Georgian regime is doing everything to please its Western protectors in order to get its support and if there will be any opportunity Georgia will not lose it to take a revenge for August 2008."
Answering the question about the future of Ossetian-Georgian relations, the de facto leader said he sees it as a matter between two "equal and friendly states." "Now it is very hard to prognosticate when it will be possible to start a dialogue between our countries. However I can say one thing firmly - we will not have any contacts with the current leadership of Georgia."
Meanwhile official Tbilisi said three years from the August conflict, Russia still continues its "aggressive policy" towards Georgia. Statement released by the Georgian Foreign Ministry on Sunday says Moscow's policy is aimed at "destroying Georgian statehood, sovereignty and independence and against Georgian citizens." In the statement Tbilisi reiterates its claim that Russia has conducted "several waves of ethnic cleansing" in Abkhazia and South Ossetia, forcing hundreds of thousands of Georgian citizens to leave their homes.
The Georgian Foreign Ministry said in its statement that in August 2008 Russian Federation carried out a "large-scale" military aggression against Georgia, occupied 20 percent of the Georgian territory and recognized occupation regimes as independent states. "Today the Russian federation is continuing fighting against Georgia with new methods – since 2010 12 terrorist acts have been planned by Russia on the Georgian territory, most of which fortunately was thwarted by the Georgian law enforcers," it reads.
Accding to the Georgian officials, three years from the 2008 war, Georgia still remains in the "vulnerable" environment and it still faces "fundamental threats" from Russia. "Despite this, Georgia is convinced that its right strategy and security policy oriented on peace, dialogue and involvement will bring its results and the threats coming from Russia will not be materialized," Georgian Foreign Ministry said on August 7.