Photo Exhibition in memory of journalists
Tuesday, August 9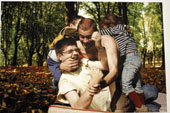 A photo exhibition to commemorate Giga Chikhladze and Alexander Klimchuk, two Georgian journalists killed during the Russian-Georgian war of 2008, opened on August 7 at Europe House.
The exhibition consists of photographs taken from their families' archive.
The exhibition has been organized by Kanal PIK in the frameworks of its "Week on War" series which will feature documentaries on the Russian-Georgian war.
Giga Chikhladze and Alexander Klimchuk together with
The Messenger
journalists Winston Featherly and Temur Kiguradze who were both wounded, left for Tskhinvali on August 8 to report on the conflict, where Ossetian militia shot the journalists.
The exhibition will close today.