Alasania tells American newspaper of Georgian authorities' failings
By Gvantsa Gabekhadze
Tuesday, August 9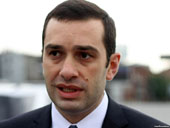 "The government's inability to tolerate alternative views led my country into an armed conflict with Russia that we had no chance of winning. But wrongheaded decisions keep rolling on"- Leader of Our Georgia Free Democrats, Irakli Alasania stated in his interview with Washington Times.
"I know this government and its shortcomings firsthand. I served for two years as its ambassador to the United Nations. I resigned in late 2008 because I disagreed with the erratic, unilateral decision-making of President Mikheil Saakashvili and his government, "Alasania stated. Taking the current authorities' shortcomings into consideration and based on the hard economic, political and social background in the country, Alasania underlined two ways to overcome the problems facing the country.
"The solution to these mindless crackdowns is twofold. First, there must be a better mechanism for political competition and the peaceful transfer of power. Without election reform of this kind, Mr. Saakashvili's authoritarianism will go unchecked. The Georgian people cannot live with that much longer. Second, freedom of expression must be protected. In the modern world, people must be heard. Unfortunately, in Georgia, dissent is barely tolerated, if at all."
As Alasania pointed out, Georgians know democracy and freedom exists in Georgia in name only, as according to him too little has been done to fix Georgia's broken democracy in the ensuing eight years, "The public still needs greater faith in the official voter lists. The principle of one person, one vote is undermined by voter lists subject to manipulation and an unfair system that rewards the party in power with more seats than it wins at the polls, " the party leader said, adding that the government must be stopped from spending money freely to retain its stranglehold on power.
He also pushed forward the theme of the stalled negotiations between the authorities and 8 opposition parties (which eventually became 6) regarding election reform, "Despite the efforts of my political party, the Free Democrats, and of five other opposition parties to advance meaningful reforms, the government has taken only a few reluctant steps in the right direction. More needs to be done, much more."
The Georgian Government representatives also think that much more is still to be done, however not from the same perspective as Alasania talked about. The Government representatives consider that agreement regarding election reform has already been achieved with the opposition (two opposition parties had signed the memorandum on election reform with the Government) and now much is to be done from the middle of autumn. The Georgian authorities also do not share the attitude regarding hardships in the country, according to them, the state has managed to defeat the crises brought on by the war and has developed at the same time, which is the merit of their political and economic course and reforms.
Some Georgian analysts think that Alasania has a serious background to achieve significant success in Georgian politics; however they also believe that presently he is not well positioned, "He passes most of his time in the United States and abroad, and has very little contact with Georgian people, especially with voters. This raises serious questions on his future prospects as a politician in this country. He must have close contacts with Georgians, otherwise success is unlikely," Gia Khukhashvili told The Messenger. Khukhashvili also commented on the election reform issue often raised by Alasania: "It is difficult to say what might happen regarding election reforms in the country. If the opposition manages to consolidate and confront the authorities, demanding systemic changes, there will be a positive outcome, in this regard. If Alasania manages to have permanent contact with people and makes Georgians believe that he is ready to serve their interests, the chances are that something will positively change concerning election reforms."