Russia closer to WTO as Georgia makes concession
By Gvantsa Gabekhadze
Wednesday, August 10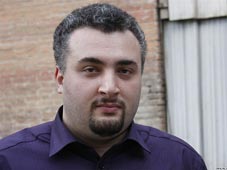 Only the combination of two factors can create a system that would secure transparency of customs administration and enable Russia to become a member of the World Trade Organization (WTO) -Deputy Foreign Minister, Sergi Kapanadze stated in his interview with civil.ge on August 8. He underlined that Georgia has already made one serious concession and now it is Russia's turn.
According to Kapanadze, those two factors are the deployment of international monitors in those trade corridors and border-crossing points, which are under discussion with the Russian Federation and the Swiss proposed establishment of a state of the art system of exchange of information. The latter is far more advanced then just an exchange of statistical data. It foresees exchange of trade-related information both prior and after crossing the border, " This proposal makes it possible to control trade through Gantiadi-Adleri [in breakaway Abkhazia] and Roki-Zemo Zaramagi [in breakaway South Ossetia] border crossing points. The Russian Federation will make a significant step towards joining WTO if this proposal becomes acceptable for [Moscow]. If this proposal is unacceptable, unfortunately for [Moscow], it will have to say no to joining WTO, "Kapanadze, said, "we do not demand deployment of our customs officers on Psou [river dividing Russia from breakaway Abkhazia] and Roki Tunnel [linking Russia with breakaway South Ossetia], as we understand that raising of this issue would amount to politicizing of [the process]. That's a very serious compromise and we hope, that it will be appropriately regarded by all the parties, " Kapanadze said and explained the reason for such a concession from the Georgian side, "We've made this concession to show everyone, that we are constructive and we are interested in Russia's WTO accession, but only if Russia is going to follow and comply with WTO principles and norms. Hence, we won't be able to again make more of these fundamental concessions."
Kapanadze also rubbished President Medvedev's statement regarding removing the embargo on Georgian products and underlined that the talks concerning WTO do not include the issue at all for three reasons , " Firstly, those companies, which have been expelled from the Russian market have already found new export markets. The second reason why we do not discuss this issue of embargo is that Russia's embargo depends on orders from [Russia's chief sanitary inspector Genadi ] Onishchenko. And the third reason: when and if Russia joins WTO, it will have to lift this embargo anyway, because it is impossible for one WTO-member country to have an embargo against another WTO-member for political reasons."
As the representative of the opposition Labour Party, Nestan Kirtadze told The Messenger, in the frames of the process, Georgian authorities lost any chance of returning Georgian products to the Russian market, " regarding the issue, the American President's statement that by the end of the year Russia should become the member of WTO and that the United States will assist the process, was deeply significant. it was a serious message for Georgia as well, that nothing will block Russia's membership in the organization, " Nestan Kirtadze said and assessed Georgian Foreign Ministry's statements concerning Georgia's strict and principled position as PR stunt only, " it was a first serious opportunity for the Georgian side to categorically demand and achieve the return of Georgian products on the Russian market. However the current Government could not manage this."
"Just talking and nothing more" was the assessment of the Foreign Ministry's statements regarding WTO, made by economic analyst Gia Khukhashvili " they are only making statements without any real basis, even then it is not clarified definitely what the Georgian demands are, " Khukhashvili told The Messenger, adding that there are very few examples in history where Georgian diplomacy achieved success in such issues."