Burjanadze pleads innocence of fugitive Bitsadze
By Salome Modebadze
Wednesday, August 10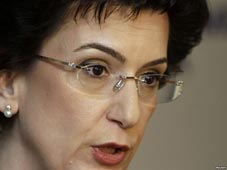 Badri Bitsadze, the former Chief of Border Police charged with "organizing attacks on policemen by a group formed in advance" is still wanted. As Nino Burjanadze the leader of Democratic Movement – United Georgia gave testimony to Tbilisi city Court on Tuesday her husband "didn't participate neither at official or non-official structures of the Representative Public Assembly." Answering the questions of Bitsadze's lawyer, Levan Samushia, witness Burjanadze spoke of the Public Assembly, its structural units and other related issues to the court.
The prosecutor and judge had asked for no additional questions to the witness during the two-hour process. As Burjanadze said later she thought that the prosecutor had no arguments proving her husband's guilt. "This case has been sewed with white ropes and can't ever be closed at any normal court," she stated. Lots of other witnesses of the May 26 crackdown were also questioned on that day; among them were the retired General Gia Uchava, who was one of the leaders of a "paramilitary" group created by the Public Assembly and his three friends.
"But their testimonies were so controversial that they could not prove Bitsadze's guilt - but his innocence," Levan Samushia told
The Messenger
. Shota Utiashvili, Head of Georgian Interior Ministry's information and Analytical Department also had to attend the process. According to the document provided by the Ministry of Interior Affairs (MIA) Utiashvili has been in Batumi from August 8 which became the reason of his absence. "This information may really be truthful and Utiashvili might really have business. We don't know yet for how long his interrogation had been postponed but we, the defense side would mediate for this by all means," Samushia stated.
On June 1 the prosecutor's office requested GEL 100,000 bail for Bitsadze to be paid within seven days but his family refused to pay. As Burjanadze had then stated she was not aware of her husband's whereabouts and made it clear from the very beginning that she was not intending to pay any bail strongly denied the charges brought against her husband. Bitsadze, who is facing from 4 to 7 years of imprisonment has not been found yet.