Portrait of an Artist – Edisher Baramidze
By Meri Matsaberidze
Thursday, August 11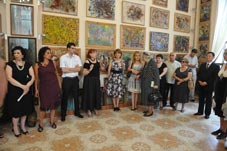 "A silly word is "death". Death does not exist. What you leave after yourself is a victory over something called "death" or eternal forgetfulness", – Kote Marjanishvili wrote in 1933.
We owe Edisher Baramidze for being among us today, his presence in this life to Prof. Tamar Tsintsadze, an art connoisseur and an owner of several collections.
If a collectioner Wilhelm Uhde in France discovered a naive artist Seraphine Louis, we can say Tamar Tsintsadze discovered another naive artist - Edisher Baramidze - in Georgia.
Georgian artist Edisher (Botso) Baramidze was born in 1954 in Tbilisi, into a family of artists. His mother – Lia Svanidze – is a well known artist (created portraits, still lives, book illustrations). Now she lives in Denmark. Father Givi Baramidze was a poet, writer, artist, art critic; grandmother was an actress, grandfather – a musician. In such a family only another artist could be born. .
It is worth mentioning that even in his childhood Edisher (Botso) showed a very individual temper. A future artist in the way of protest rejected a special education given to young artists. He did not wish to follow accepted canons and dogmas. In the time of Edisher's youth, art was characteristic of what the socialist regime expected with certain themes and styles of painting from artists. But it was practically impossible to place Edisher within a certain frame. He was a free man and a free artist, who was strongly attracted by the dreamy world existing in his imagination. Edisher was a representative of naive art. Naive means a simplistic, unsophisticated approach to life and is mostly characteristic of self-taught artists. Edisher's naive painting can be called fantastic realism which enabled him to express his naive vision in the language of naive art. Edisher lived in a gloomy Soviet reality. He managed to see and express what was lost in the contemporary world through his painting and poetry which is always in the background of his painting.
In the formation of Edisher as an artist his broad erudition played an essential part. Except painting he was attracted by poetry, music and philosophy. He knew Georgian, European and Oriental art. Edisher with his rich imagination was extremely productive as an artist. He created big and small pictures, sketches, in which one can feel childish freedom of expression and some craziness too. All the time he was in search of themes and ideas, images, expressive forms, various (often opposing) discoveries, but in all cases we see one artistic vision. At all times in all his works one feels his dedication to art, his openness of nature, frankness and love for beauty, nature, flowers, women, poetry, philosophy, etc.
Edisher's pictures are created with bright, light paints. While creating compositions he actually ignored perspective – this imparted some childishness and decorative effect to his pictures. For more expressiveness the artist often used untraditional mixed techniques – he used various materials, all, he could lay his hands on – stone, bricks, glue, saw dust, curtains, threads, etc. This is well illustrated by a series of abstractions (canvas, curtains, oils, thread), a series "Theatre" (canvas, carton, cardboard, stone, bricks, oil), a modernistic series with human figures, a series of abstractions, flower designs, nudes, etc. Of this artist serial compositions are characteristic, which consist of a minimum of 3 and a maximum of 10 pictures. Almost identical compositions differ from one from another in mood and colorful expression. It seemed the artist tried to exhaust one theme, to which he rarely returned. Edisher, at various periods of his life, created a series of pictures with decorative flowers, abstract compositions, with religious themes, Chinese, Japanese, oriental motifs, the theme of love between a woman and a man and other compositional series.
Among his psychological portraits we should point out a graphically performed portrait of Paganini, a famous Italian violinist; the emotional center is on Maestro's long, thin, sensitive fingers. As one musician said, Edisher in an amazingly realistic way painted the "apparatus" in Paganini's hands which enable musicians to execute fairy sounds. The impression is as if Edisher , like Michelangelo, made a special study of a human body, namely, a human hand. There is a series of ladies' portraits in watercolors (one of them - of Jane Eyre). Made in somber colors, these portraits reveal spiritual torture in a young woman's clear childish eyes.
One cannot help smiling when looking at the series "Kings" (one reminding of King Loui XIV), made with mixed technique. Kings' naive expression is leveled out by their long, protruding noses imparting comic effect to these highly imaginative portraits.
Edisher's wife, artist Ketevan Gogichashvili recalls the following: "I remember Botso working at a series of palm trees. He finished painting, but continued looking at one of the pictures. He seemed restless, something troubled him. He was pacing up and down, stopped before one picture, looked at it closely, took a brush and quickly made a bright spot on it. "It lacked this spot", – he said and, tired, he sank in an armchair. I was looking at the series of "Palms", which in my mind were associated with a ritual "tree of desire". I tried without Keti's help to guess in which tree he hung his last desire or dream.
The Bohemian way of life drained Edisher of all strength, and exhausted him. He left us at the age of 52. But, as we said at the beginning, he did not die. Owing to his art, bright, vivid images created by him, he is still among us imparting color to our lives.