Georgian state companies to float on international stock markets
By Mzia Kupunia
Friday, August 12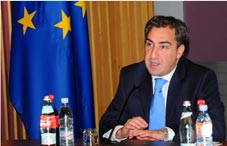 Georgian Prime Minister Nika Gilauri presented legislative amendments related to privatization procedures at the Government Session on August 10. Speaking to the cabinet members, Gilauri said the planned amendments would enable state companies to put their stake packages on sale at the international stock markets – in London, New York and Warsaw.
According to Gilauri the previous legislation did not allow this. The Prime Minister said the government is considering discussing the possibility of putting 15-20-25 percent of the stakes on London and Warsaw stock markets of such companies as Georgian Railways, AES Corporation, Electrosystems and other state companies.
"This will enable us to attract big amounts of new capital to our country, bring big amounts of investments. This will give some stimulus to the private companies to do the same and bring money from London, New York and Warsaw stock markets to Georgia. This will additionally promote growing the country's economy and employing people," the PM said at the government session.
Gilauri said the situation at international stock markets is not "enviable". "However, despite this the trust towards Georgia is not decreased, on the contrary it has increased and Georgia's securities are being traded better," he noted.
The Georgian Prime Minister said that "many questions" have been asked about the economic stability of other countries, however he added, that all macroeconomic indicators of Georgia are "healthy." "Consequently, if 10 year-long credit for Georgia was traded at 7.1 percent, now it is 6.2 percent," Gilauri said "it means that the international investment community positively assess Georgia's macroeconomic stability and has more trust towards it," he added.
While the Prime Minister hailed legislative amendments, the opposition Labour Party protested against it saying that by putting shares of Georgia's main gas pipeline and the Electrosystems on international stock markets the country will "eventually lose" its geostrategic and energetic functions. "As a result the population will get even more increased tariffs on electricity and gas," the Labour Party member, Giorgi Gugava told reporters, calling the decision "anti-state" and "anti-national."
Georgian Energy Minister, Alexander Khetaguri however positively assessed the proposed legislative amendments, saying that the Georgian authorities have already hired investment banks in order to go through the necessary process and get the relevant recommendations and start the process of registering the shares of those companies.