New Garbage for Tbilisi tax system widely criticized
By Salome Modebadze
Friday, August 12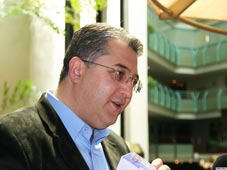 Christian-Democratic Movement (CDM) lodged a complaint against the City Court on August 11. The City Court had discouraged CDM's appeal against attaching the charge for garbage collection to the electricity payment. Talking about the negative impact of Tbilisi City Council's decision on citizens, CDM demanded its abolition. Giorgi Akhvlediani MP from CDM explained that the City Council had taken the abovementioned decision by ignoring the Georgian Parliament.
According to the City Council decision, the payment for removing domestic garbage from the streets would depend on the consumed electricity for Tbilisi citizens. That means the more electricity you consume the more garbage you use thus the more you should pay. The price of this payment is 5 tetris for each consumed kilowatt of electricity. It means that if a household spends one hundred kilowatts a month it is liable to pay 100 kilowatts X 5 tetris = 500 tetris, GEL 5.
As Akhvlediani stated on Thursday that the decision violated the law on communal taxes adopted by the Parliament which says that "the garbage collection fee per person shouldn't exceed GEL 3" while this amount would increase three or four times with the electricity payment and would only be beneficial for the Government as it would have an additional 13-14 million Lari.
"The law of the Parliament is superior thus the City Court should have considered our appeal," the MP said stressing that "not only CDM but the entire population would stand behind the appeal". "If the Appeal Court would also fail in taking the right decision this case would reach the European Court," Akhvlediani said confident in the objectivity of the European judges.
Members of the United National Movement faction of Tbilisi City Court continue proving the "social fairness" of the initiative but the economic analyst Gia Khukhashvili expressed his concern about the issue. Explaining that the two different commercial systems can't share the responsibility, Khukhashvili criticized the legal "nonsense" of the issue.
"The officials claim that their decision aims at restoring the "social fairness". They want to prove that the rich people generally spend more electricity than the poor, thus would have more expenses. But they simply forget that the rich ones use gas systems in winter while the poor people rely on electric appliances," the analyst said worrying that the new unified tariffs on garbage and electricity would make ordinary people's lives even harder. "There is neither logical sense nor a legal basis for the Governmental decision," Khukhashvili stated.