Good grape harvest expected as wine season looms
By Messenger Staff
Tuesday, August 16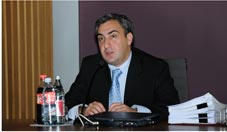 At the latest government sitting issues concerning wine production were discussed. Prime Minister Nika Gilauri said that in a few weeks this year's vintage will begin production in Georgia and a good grape harvest is forecast.
Bakur Kvezereli, Minister of Agriculture provided the cabinet with full information on the vintage and said that he and ministry staff held several meetings with wine producers and entrepreneurs, as well as with wine processing companies. According to Kvezereli 27 companies will work and it will be able to sell the harvest in 32 places. Kvezereli said that those conducting the grape harvest will be processed and wine growers will get financial assistance from the state budget.
PM Gilauri noted that this event will begin on August 25 and will last 7-8 weeks. "During this period the Ministry of Agriculture should do its best to mobilise all this work in order for the vintage to be produced successfully," he added.