Georgians upset after Moscow turns out the lights
By Ernest Petrosyan
Thursday, August 18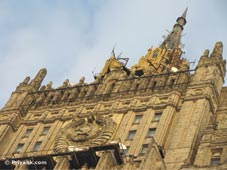 "Regardless of the multiple applications made by the Ministry of Foreign Affairs, the Russian side has not yet provided normal and unimpeded functioning of the Georgian Interests Section (GIS) of the Swiss Embassy in Russia", says the statement released by the Georgian Foreign Ministry regarding the shortcomings in functioning of the Georgian Interest Sections at the Embassy of the Swiss Confederation in Russia.
Over the recent months it was the second case of cutting off the electricity supply to the building housing the GIS in Moscow, due to which the section had to suspend consular service to its citizens.
The Russian side, however, had spread information that the electricity was cut off to the Georgian Interest Section is because of unpaid utility bills.
According to the Foreign Ministry's statement the Russian government is thereby violating both the 1961 Vienna Convention on Diplomatic Relations and of the agreement between the Russian Federation and the Swiss Confederation on the Swiss Confederation's representation of Georgian interests in the Russian Federation signed through the exchange of diplomatic notes on 4 March 2009.
"It is absolutely incomprehensible and unacceptable that the work of the Section has been interrupted to the detriment of ordinary citizens as a result of groundless demands voiced by the building's owners that have changed several times as a result of various corrupt transactions", reads the statement.
As mentioned in the statement, the Georgian government, during the meeting at the Russian Foreign Ministry, suggested holding consultations between Georgian and Russian Foreign Ministries (with the mediation of Swiss government representatives) with a view to ensuring normal and steady functioning of the Interest Sections in both countries.
The statement also says that Russian Foreign Ministry Representative Mr. Lukashvich refused to hold according consultations with the Georgian side on August 16, exactly one day before the cutting off of the power supply to the Georgian Interest Section.
In its concluding statement the Georgian Foreign Ministry says that a FM working group is set up, which will review the ways of resolving this state of affairs, among which, the possibility of retaliatory measures is also being considered.