Artistic Director sacked
By Salome Modebadze
Thursday, August 18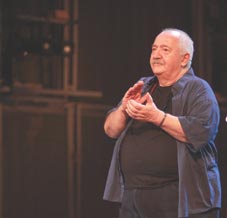 Robert Sturua, the Artistic Director of Shota Rustaveli State Theatre was removed from his position for his "ethnic metaphors," the Minister of Culture and Monument Protection Nika Rurua said on August 17 in Batumi. Talking of Sturua's withdrawal as "a very principled issue" the Minister explained that "the multiethnic and multicultural Georgia couldn't bear xenophobia in the country." Rurua referred to Sturua's position in his interviews allegedly having xenophobic sounding.
Sturua's position had been the subject of public confrontation for quite a long time. The Director denied his negative approach towards any ethnical group and said: "I don't hide my views while the Government can't bear critical opinions."
It was on Tuesday night when the Georgian Director released information about his removal on his Facebook page but the Minister of Culture had signed the order a couple of days earlier on August 9. "According to the law on State Theatres I order the release of Robert Sturua from the position of Artistic Director of Shota Rustaveli National Drama Theatre from August 15," the Minister said in the order.
The Minister admitted on Wednesday that it was not a pleasant decision for him but, comparing the Georgian Director with Bolsheviks, Rurua condemned any "division of people according to their nationalities or classes in the democratic state". "I took a decision to withdraw a person with such opinion from a key position," he said and was worried that "our greatest enemy would find profit from such a situation at the first suitable moment".
"The reasons have been stated and the decision of the Ministry is known so that the order is in force," Managing Director of the theater Zaal Chikobava told The Messenger. Chikobava explained that Sturua's dismissal from his post didn't prevent him from working as a director.
Actor of Rustaveli Theatre Beso Zanguri addressed all his colleagues and spectators of the theater to oppose Rurua's decision in front of the Ministry at 5 p.m. on Thursday. "I express my protest! Rustaveli theatre can't be imagined without Sturua - there are things which they shouldn't touch!" Zanguri said in his Facebook post. As Zanguri told
The Messenger
he and his friends would express their protest about the great Director's removal "in the most civilized way without demanding anything".
Expressing their embarrassment towards Sturua's withdrawal his Facebook friends have created support pages and express their protest online. "Art is our main affair and no orders can change Sturua's artistic merit," Actress Keti Khitiri stated. Actress Tatuli Dolidze was also amazed with the Ministry's decision. "Robert Sturua is not an ordinary person – he is a phenomenon in the theatric world and such an approach towards him should be unacceptable to the Georgian society," Dolidze said stressing that it doesn't matter what position he would be holding in the theatre. "Sturua should continue staging plays at Rustaveli Theatre despite the fact that he would be gratefully accepted at any other theatres of the world", she added.
The position of Artistic Director in Rustaveli theatre remains vacant. While Sturua feels calm and continues his ordinal lifestyle. "I arrange feasts, have a sleep, eat fruit – I'm absolutely free!" Sturua said in his updated Facebook post worrying how he would carry so many books from his former office to his home.
Graduating from Tbilisi State Theater Institute in 1961, Robert Sturua began his career at the Shota Rustaveli Theater, where he became Principal Director in 1979 and Artistic Director in 1982. Sturua is a world renowned director with various national and international awards to his name. He gained international acclaim for his original interpretation of the works of Brecht, Shakespeare, Chekhov. His creativity has been fascinating audiences with his original interpretations of art for decades. (http://en.wikipedia.org/wiki/Robert_Sturua)