Borjomi water yet to officially return to Russian market
By Ernest Petrosyan
Tuesday, August 23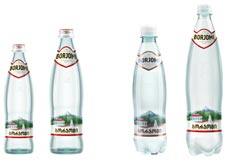 "It is time to transfer the discussions on Borjomi from a political to a technical perspective", stated the Head of the Federal Service for the Oversight of Consumer Protection and Welfare [Rospotrebnadzor] Gennadiy Onischenko on radio Echo Moskvy on Sunday, inviting the company's management to negotiate the return of Borjomi mineral water on the Russian market.
During the programme Onischenko was asked by one of the radio listeners whether Russian consumer service will allow Borjomi to enter the Russia Market. "The remainder of the Georgian soviet socialist republic that remained in very limited territorial boundaries all of a sudden started to scream out at a governmental level: "What's this? Georgian producers will not go". What is this government like, not allowing it's producers to the Russian market to trade?" replied Onischenko ridiculously.
He says he was introduced to a telegram from the MP he met about a month ago, who , according to Onishenko, will visit Russia once more this week and asks to meet him again.
"It's good to meet with an MP, but it is less productive as I prefer to meet with producers directly". "We are ready to meet those who want to enter the Russian market, but enough to salvage this topic on a political level. Let's move this subject to a technical platitude and start working" added the Chief Sanitary Inspector.
In fact, Borjomi is already being "illegally" supplied on the Russian Market from Belarus, which as a member of a customary union with Russian Federation and Kazakhstan has free access to the "single" market envisaged by the Single Customs Union. "We are concerned with the illegal supplies of wines and mineral waters from Belarus. "Despite the assurance of the Belarus side, we see that "Classical wine" company, using customs union, continues supplying illegal production. We will take according measures and punish all companies supplying forbidden goods", stated Onischenko in one of his previous interviews.
The Russian side, holding negotiations with the Georgian authorities regarding Russia's admission in the WTO, seems to concede some interests in favor of Georgia, making political steps.
Economic Analyst Nodar Khaduri believes that the Russian "compromise" to let Borjomi on to the Russian market is not enough for Georgia. "On the one hand, Georgian businessmen would welcome this initiative, since the Russian market will significantly increase Borjomi's export. On the other hand, it cannot be assessed as a compromise related to Russian-Georgian talks on WTO admission. Generally, the existing situation is not fair, it is like a football game with a single goal, since Georgia and the Georgian market is opened for Russian investments and goods, for Georgia, however, Russia and the Russian market is entirely closed, and I do not think it will last long", Khaduri told
The Messenger
.
After the autumn 2006 spy scandal the Russian Federation has imposed a politically motivated embargo on Georgian wines and mineral waters which are very popular in Russia. Herewith, Moscow also cut off air, rail, road, and sea links between the two countries and reinforced the visa policy for Georgian citizens.