Georgia dismisses Russian rumours of South Ossetia action
By Gvantsa Gabekhadze
Friday, August 26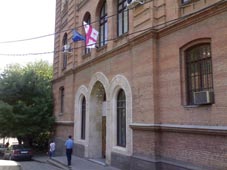 The word "provocation" has practically become the synonym of upcoming so called day of independence of Russian puppet regime in so called South Ossetia. After accusations from the Russian Foreign Ministry, that the Georgian side is "actively preparing for provocation on the date," the Georgian Foreign Ministry has responded in similar fashion, late on August 24.
"No peaceful march is planned by the Georgian side" – the Georgian foreign ministry states and admits that by such statements the Russian side provides a background for further escalation in the region and tries to escalate the situation, "We are already accustomed to hearing such outrageous and groundless accusations, and do not take them seriously. And neither does the international community, as the EUMM's [EU Monitoring Mission in Georgia] reaction to this allegation proves," the Ministry stated.
However, despite the statements the Georgian side and especially the Foreign Ministry underlines that they should monitor the situation seriously, "It is extremely alarming that Russia invents such false pretexts for further provocations and to worsen the already dire situation near Georgia's occupied territories, " adding that such Soviet-style propaganda aims at creating artificial tension on the ground, and in doing so to prepare for possible future provocations, " We will all keep a watchful eye on possible developments, as we can never be sure what aggressive intentions Russia may be hiding behind such statements," the Georgian Foreign Ministry said.
As Analyst Nika Chitadze told
The Messenger
, Russia might carry out some provocations , "they might detain some Georgians near the so called border and state that they were planning some kind of sabotage in the region," the analyst stated and mentioned that by such actions Russia is trying to justify being in the occupied region. As for the responses from the Georgian authorities' side, according to the analyst they are "quite adequate." Based on analyst, Malkhaz Chemia, no serious steps are possible from the Russian side, as current political reality prevents it from behaving like that. As for Georgian leadership's actions towards the occupied region, the analyst estimates it negatively, "they have spoiled everything that can be spoiled. In general, our authorities are making some steps to strengthen the country's military potential and we do not have any threat from Azerbaijan or Turkey. As for Russia, no weapon will save us against that state, if they decide some confrontation, but for now I do not see any threat," Chemia told
The Messenger
.
According to the statement of Russia's Foreign Ministry on August 23, the Georgian side is planning serious provocations on August 26, when the South Ossetian anniversary of its alleged independence is to be celebrated.
"This event envisages an attempt of mass illegal penetration into the territory of South Ossetia under the slogan of returning refugees to their homes," the Russian Foreign Ministry said.