Visiting Admiral praises Georgian soldiers
By Salome Modebadze
Friday, August 26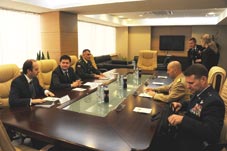 NATO's Supreme Allied Commander in Europe Admiral James Stavridis visited the Georgian Defense Ministry on August 25. Defense Minister of Georgia Bacho Akhalaia briefly introduced the NATO Commander with the situation in the defense system of the country. "Admiral Stavridis is NATO's highest ranking military officer and at the same time the Commander of the United States European Command. You are aware of the fact that Georgia is not only one of the largest but also one of the most important contributors to the operation," declared Minister Akhalaia after the meeting.
Expressing his pride of the Georgian soldiers participating in ISAF mission Admiral Stavridis thanked the Georgian Government for outstanding participation in Afghanistan. "I am very happy to be here today in Tbilisi, in Georgia. We are very proud of the soldiers from Georgia who have fought alongside the rest of the NATO coalition," declared Stavridis.
President of Georgia Mikhail Saakashvili also hosted NATO's Supreme Allied Commander in Europe Admiral James Stavridis in the frames of his official two-day visit to Georgia. The sides discussed Georgia-NATO future cooperation and Georgia's Participation in the International Security Assistance Force mission (ISAF). Admiral Stavridis expressed his gratitude towards the Georgian President for "the special courage and devotion" of Georgian soldiers in the Afghanistan mission while the Georgian President informed the guest about the ongoing reforms in the country and shared the future infrastructural initiatives.
The participation of Georgian soldiers in international missions has been the subject of long running disputes. Analyst Irakli Sesiashvili spoke of the importance of Georgia's engagement in the Afghanistan mission but stressed that Georgia has sent too many soldiers. "The fact that the international representatives (including Admiral James Stavridis) are constantly thanking the authorities for the special merit of Georgian soldiers emphasizes that we have the most significant representation in Afghan mission. In this way President Saakashvili is trying to get more support from the west and gain political scores for the coming 2012 elections in Georgia," the analyst told The Messenger. Talking of the theoretical danger of a new military confrontation with Russia, Sesiashvili worried that it would be hard for the Georgian side to tackle a possible attack. "There is no apparent threat from Russia but the country has high political risks due to the nonexistence of political negotiations with Russia," the analyst stated.