Long sentences for Burjanadze's May 26 drivers
By Gvantsa Gabekhadze
Tuesday, August 30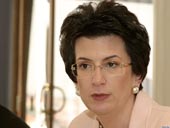 Tbilisi City Court completed the hearing of the criminal case against the Burjanadze – Bitsadze family drivers on August 30. The same day the Prosecutors office of Georgia published a special statement regarding the investigation of the cases built on the incidents that occurred on Rustaveli Avenue on May 26, 2011. The statement describes in detail the cases brought against the defendants - Shakria Zurashvili and Ivane Chighvinadze (the drivers) charged with killing and injuring people on Rustaveli Avenue during the May 26 events.
"On August 17, Tbilisi city court ruled on the case of Shakria Zurabashvili and sentenced him to prison for 12 years. As for Ivane Chighvinadze, who was charged with resisting law enforcers, violence, destruction, he was sent to prison for six years. Due to his cooperation with the investigation regarding the less grave crime committed by him on that night, which is the second part of the case, the prosecution signed a plea bargain with the defendant who has been sentenced to prison for four years and will also be given a 5 year conditional sentence."
Ministry of Internal Affairs of Georgia has also released a video reconstruction of the May 26 incidents, in which two people were killed by the escort of opposition leader Nino Burjanadze, including one policeman.
Burjanadze, leader of opposition Democratic Movement-United Georgia and one of the leaders of the May events together with Representative Public Assembly has called the video materials "fabrication made through a computer which has no connection with reality. "As for Badri Bitsadze, who was sentenced to five and a half years imprisonment in absentia and whose whereabouts are still unknown, gave an interview for the first time concerning the issue with the newspaper Asaval – Dasavali, where he states that his and Burjanadze's downfall was planned on May 26, " it was Saakashvili's decision and the special unit had to fulfil this decision. They thought that Burjanadze would not have endured the pressure and someone would shoot from her guard, after that anti terrorist group would be involved in the operation with real bullets, " Bitsadze, said and underlined that the killing a policeman was in the interests of Saakashvili, who, according to Bitsadze had the same plan for 2007 , "During the May 26 events, they needed a killed policeman to justify their brutality and discredit Nino. That policeman was killed earlier." After delivering some details of the event, Bitsadze explained the reason of his staying away from Burjanadze which was inevitable," otherwise they (the Police) would fulfil their plan. "
Bitsadze stated that he had more information which would be important to Georgian scoiety, " I have very important information on what was happening and what still happens from the order of Saakashvili and the day will come when I will deliver that information."