Sturua future uncertain after Rustaveli dismissal
By Salome Modebadze
Tuesday, August 30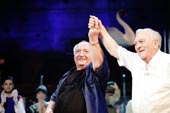 Robert Sturua spoke about the reasons for his removal from the position of Artistic Director of Shota Rustaveli National Drama Theatre to the media on Monday. At a video conference held at the Tbilisi office of RIA Novosti Sturua stressed that his open criticism towards the current Government became the reason for his dismissal from the administrative position which he had been holding for so many years.
"It has been a fortnight since I was released and I can hardly walk in the streets – there are my photos in every newspaper which is irritating me because I'm not a hero," Sturua said stressing that he had never done anything shameful. "I always did what I wanted to do but I didn't often make compromises," Sturua stated. "The position of Artistic Director is a very important post which can't be abolished," said Sturua adding that even if the Georgian Government would change the decision of his removal and apologize he wouldn't return to the theatre as the Artistic Director.
It was on August 9 when the Minister of Culture and Monument Protection Nika Rurua signed the order of Sturua's removal from the administrative position. Rurua then condemned any "division of people according to their nationalities or classes in the democratic state" and accused the great director of xenophobia. "No one wants to leave his homeland but there are some moments in life when you wish to leave everything around! I think it would be difficult for me to return to Rustaveli Theatre despite all the compromises the theatre has made. It's the issue of self-respect – when a disgraced person returns to his family he can't feel as a full member," Sturua stated.
According to the information released by the Georgian director the official invitation he received from Moscow
Et Cetere
Theatre has been the most satisfactory for him. Sturua also spoke of his friendly relations with the Director of
Et Cetera
theatre Alexander Kaliagin. "I feel at home at that theatre but I haven't heard the final decision – I'm still waiting for the consequences of the ongoing events around me," said the director which left for Odessa in Ukraine with Et Cetera Theatre today. This tour had been planned a long time ago and the Georgian director would definitely return to Georgia because he hasn't yet made the decision about his future plans.
Tamaz Chiladze, the author of
Hunting Season
the last play staged by Robert Sturua at Rustaveli Theatre has been pessimistic about the future of Rustaveli Theatre without the "unchanged artistic director" whose name has been associated with the "fate of Georgian theatre." "How can you direct someone as to what he/she should say or not? Haven't we already passed such a period in history? You may not agree with the creator but shouldn't punish him for this," Chiladze said in an interview given to
Kviris Palitra
. Talking of Sturua's great merit in developing Rustaveli Theatre the Georgian writer spoke of Sturua's importance for the whole of Georgian society.
Nothing has been said about the candidates for the position for the vacant role of Artistic Director of Rustaveli Theatre. Actor and Producing Director of American
Synethic Theatre
Irakli Kavsadze spoke of the difficulties with managing the theatre in general. Talking of Robert Sturua as a great arts man who has created "the world epoch" with his theatre's team, Kavsadze stated that such issues can't ever be forgotten. "Being an Artistic Director of Rustaveli Theatre means taking responsibility over your country's treasure. If Sturua won't be holding that position any more, the new candidate should be better than him!" Kavsadze said warning Georgian society to be careful with its cultural stars.