Abkhaz election results ignored by international community
By Gvantsa Gabekhadze
Wednesday, August 31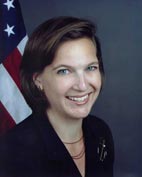 The United Stets and the European Parliament do not recognize the legitimacy or the results of the so called Presidential elections of de facto Abkhazia, after statements regarding the issues were made late on August 29.
"We reiterate our support for Georgia's sovereignty and territorial integrity within its internationally recognized borders. We urge Russia to fulfil all of its obligations under the 2008 ceasefire agreement, including withdrawal of forces to pre-conflict positions and free access for humanitarian assistance to the territories," Victoria Nuland, a spokesperson for the U.S. Department of State has mentioned.
The same sentiment was echoed in the statement made by the President of the European Parliament Jerzy Buzek, who underlined that these elections do not change the position which the European Parliament holds on the breakaway region of Abkhazia in Georgia, "Abkhazia is an autonomous region but part of Georgia and the European Parliament is committed to the sovereignty and territorial integrity of Georgia," Buzek stated.
Of course, this position was also mirrored by Tbilisi on the issue, which called the events another cynical act of the pseudo-democratic policy - the so-called presidential elections and appealed to the international community to respond adequately.
As for the reaction of Georgian opposition parties, two of them have already declared their positions regarding the issue. After the statement made by the leader of Our Georgia- Free Democrats, Irakli Alasania said that despite the fact Georgians were not able to participate in the so called elections, "Georgians should respect the Abkhaz people's choice," as direct dialogue between Georgian and Abkhaz people aimed at restoring mutual confidence will help to resolve the problem through entirely peaceful means. Practically, the statement made by the opposition New Rights carried the same message and expressed hope that the new leader of de facto regime, Alexander Ankvab, would perform a positive role in Georgian- Abkhazian relations, "Naturally, neither Tbilisi nor international organizations recognize the legal and constitutional framework in which presidential elections in Abkhazia were held; but, nevertheless, the New Rights political party respects the choice of the Abkhaz people and congratulates them on the victory of their candidate, who enjoys the serious support of the society. We believe, that the coming to power in Abkhazia of Alexander Ankvab means a new stage in the life of the Abkhaz people," the statement of New Rights reads.
Similar to the opposition forces, some positive forecasts have been delivered by Georgian analysts who state that in the leadership of Ankvab, Georgian- Abkhazian relations might improve, despite the all too familiar tone in the words of Ankvab's ally after victory was announced, "to say sincerely I do not see any possibility of such progress in the process. There are people in Georgia and Abkhazia who have good relations, however, currently, Georgia is our enemy state. We consider ourselves as a state which gained independence and not that one which is occupied, "the head of the staff of Ankvab, Leonid Lakerbaia said.