Saakashvili excited for Kutaisi's 'fundamental reconstruction'
By Salome Modebadze
Wednesday, August 31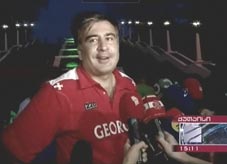 The President of Georgia Mikheil Saakashvili familiarized himself with the infrastructural processes in Kutaisi on Monday. The President emphasized the importance of building a new Parliament which would end the "hopeless situation in Kutaisi" and become "the stimulus for the citizens". Calling it a "historical process" Saakashvili welcomed the rapid constructive activities which would enable presentation of the new legislative building in 2012. The new Parliament according to the President would be "the most modern in the world" which would encourage the socio-economical development of the country and "totally change the Georgian psychology".
Announcing the "fundamental reconstruction" of the town the President explained how much more beautiful Kutaisi would be and that more investment and jobs would follow and this all would reflect on the welfare of the citizens. Stressing the necessity for opening new modern factories in Georgia Saakashvili predicted that everything else would gradually settle in the country. "We don't yet have such a "velvet" life suitable for the new boulevards but we should start from somewhere," he stated.
Talking of the problems Kutaisi has been facing for the last few years Saakashvili welcomed Georgia's uninterrupted development. "The state bodies operate; we don't stand at one particular place but continue developing so that we would overcome not only Holland but many other states. But this all needs time and patience," Saakashvili said referring to a Dutch tourist's comment who according to the President couldn't hide his amazement with the Georgian hospitality and the sightseeing but considered Saakashvili as a "weird person."
That tourist had called the constructions in Batumi and Kutaisi "the product of Saakashvili's dreams" which he found quite unsuitable to Georgia. "Some tourists think that everything lovely can be in Holland, France or Italy but we will also have the infrastructure like the developed countries," Saakashvili said opening the 6-kilometre long biking path in Kutaisi with his family and announced that such sites would be provided all around the country and ensure the safe lifestyle of the citizens.