Ukraine murder suspect claims he did not act alone
By Ernest Petrosyan
Thursday, September 1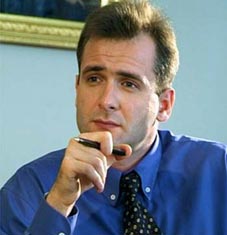 The prime suspect in the infamous murder of Ukrainian journalist Georgi Ghonghadze in 2000 has alleged that former President Leonid Kuchma ordered the murder. The former Interior Ministry General of Ukrainian, Alexei Pukach has confessed to the murder of Ukrainian journalist Ghonghadze. As Newsland reports, Pukach admitted that he had killed the journalist himself. Herewith, the former General revealed the names of the other case related persons, presuming that the current Chairman of the upper Rada Volodymyr Lytvyn and the former Interior Minister Yuri Kravchenko, now dead, as the murder conspirators.
Pukach, however, denied the information regarding the surveillance of Ghonghadze before the murder. According to the RIA NOVOSTI information, the Pukach's trial case started yesterday in Kiev being proceeding behind the closed door without journalists allowed to attend it.
"He told precisely it was President Kuchma", told one of the court witnesses Aleksey Podolsky to the RIA NOVOSTI, pointing out that Litvin and Kravchenko were also involved in the murder. According to him, after the killing of Ghongadze the General met the alleged accomplices among who was Litvin. Pukach was introduced to Litvin saying – "This young guy is the head of our intelligence who has assassinated Ghonghadze", Podolsky conveyed Pukach's trial quote to journalists.
According to the Ghonghadze widow's lawyer Valentyna Telychenko, Pukach claimed he had "saved Ukraine" by preventing coup, that Ghonghadze with two other journalists had been allegedly plotting.
"Pukach said that the journalists Ghonghadze, Alyona Pritula, and Aleksey Podolsky had been preparing a coup since 1997, and he saved Ukraine by killing Ghonghadze", conveyed the attorney to journalists.
The scandal deepened when a leading opposition politician made public audiotapes on which a voice, resembling that of Kuchma's, was heard ordering officials to "deal with" Ghonghadze.
In the Spring of the ongoing year Ukraine's state prosecutor has formally opened a criminal case against the former president Leonid Kuchma based on the audio recording, on suspicion of involvement in organizing the murder of opposition journalist.
Ghonghadze, an outspoken critic of then President Kuchma, disappeared in September 2000. His headless body was found six weeks later in a forest near Kiev. The case later was followed by the above mentioned audio recording, on which a man, supposedly Kuchma orders the murder, which was allegedly recorded at Kuchma's presidential office by the Major of the State Security service Nikolay Melniochenko.