Naming dispute surfaces in South Ossetia
By Gvantsa Gabekhadze
Thursday, September 1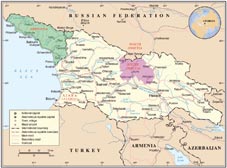 De facto South Ossetia is trying to sever all its ties with Georgia. One of the most debatable issues currently in so called South Ossetia is changing the name of the region, as based on the leadership of the puppet regime and some representatives of the region," the name South Ossetia does not convey the independence of the region and a better more serious and strong name is needed for our introduction on the international arena."
The issue has become very real and some polling has been undertaken on the issue lately and the two main names revealed, which had the most support in the region were "Iriston" and "Alania".
Based on so called South Ossetian newspaper Respublika, currently South Ossetia is not an unknown region, it is a state which can cause serious political changes for Russia and the United States, especially after 2008, "the state is independent and an appropriate symbol and name is needed, the name South Ossetia was taken from the Georgian language." The newspaper also pointed out a similar situation nearby, "Georgia also wants to change Gruzia (The Russian naming of Georgia) with Georgia. Of course each name carries importance whether it be a person, ship or state. We hope that for the following Presidential elections of South Ossetia it would be one of the main issues" the Newspaper reports.
The attitude of Tbilisi on such issues are one and the same almost all the time, meaning the region is occupied and all its attempts to introduce itself on the international arena are useless, "as the international community considers the region as part of Georgia." Those statements have been confirmed by all developed and influential states of the world.
The attitude of the Georgian authorities is shared by the opposition in this regard, according to the member of opposition Christian Democrats, Jaba Samushia, "neither of the above mentioned names suits the Tskhinvali region, as the area is Shida Kartli the oldest Georgian region. Alans had never lived in the area, their homeland was till the territories of North Ossetia, so, it would be better for Ossetians to reintegrate their land, which is currently snatched by Russia, " Samushia said.
According to the analyst in Caucasus Issues, Mamuika Areshidze, the North Caucasus will be the first opponent of the names Iriston or Alania to be used as the substitute of so called South Ossetia, "Iriston" is the proper name of the North Caucasus. as for Alans, they have never lived in the South Caucasus, they were the inhabitants of the river Don banks, currently, the term Alans is used as one of naming North Caucasus people generally. "
Based on historical documents, the term South Ossetia has been used from 1860, when the Ossetians were massively represented in historically Georgian Tskhinvali region and under the Soviet authorities it was given the status of an autonomous district. On December 10, 1990, based on the decision of Georgia's Supreme Council, it was abolished as an autonomous district and was given back its historical name, Tskhinvali region or Samachablo.