US lobbying efforts begin by the opposition party Our Georgia-Free Democrats
By Gvantsa Gabekhadze
Monday, September 5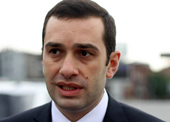 The Georgian media has widely reported that the Our Georgia-Free Democrats (OGFD) opposition party led by Irakli Alasania has hired a Washington-based lobbying firm, BGR Government Affairs LLC, part of the BGR Group with operations in Europe.
Online news reports from
Civil.ge
say that the BGR Government Affairs LLC was not hired directly by OGFD, but through BGR Gabara. This London-based subsidiary of the BGR Group provides government relations services mainly in London and Brussels and media relations services across Europe.
According to documents filed by BGR Government Affairs to the U.S. Justice Department, "At the time of filing [July 22, 2011] the Parties have not reached an agreement with regard to duration, fee and expenses. At the time of filing the foreign registrant [BGR Gabara] has not received any fees or expenses." BGR Government Affairs, which describes itself as "bipartisan lobbying firm", says that activities on behalf of the client includes providing "outreach to U.S. government officials, news outlets and other individuals within the United States... for the purposes of promoting a stronger Georgian democracy through fair, open, and honest elections in 2012."
According to the OGFD Press Service representative Vako Avaliani, consultations are already ongoing though currently no memorandum has been signed. He told
The Messenger
that the public will get full information regarding the negotiations and agreements as soon as they are concluded: "We have nothing to hide," he said.
As the analyst Gia Khukhashvili told
The Messenger
, there is nothing unacceptable about this initiative, especially as an experienced group is involved in the issue. "I mentioned earlier to your newspaper that one of the greatest shortcomings of Alasania was his lack of contact with Georgian voters. However since coming back from the United States nearly every day he was meeting with ordinary citizens, so there's been an obvious improvement in this field." Khukhashvili pointed out how he thinks the lobbying group and the opposition party could better collaborate. "They should not take an absolute "American course", as this does not appeal to Georgian voters much, and such course is not as popular as earlier. Herewith, the National Movement and Christian Democrats have already chosen that course." He underlined that a second unpopular step would be "overly constructive attitude towards events, like the Christian Democrats did. A more aggressive approach in politics is needed, thus the Free Democrats should create a distinctly different image to achieve success."
The BGR Group was co-founded in the early 1990s by Haley Barbour, now the Governor of Mississippi and previously a powerful Washington lobbyist; and Ed Rogers, a former advisor to George Bush, Sr.