Visa regime for the EU
By Ernest Petrosyan
Wednesday, September 7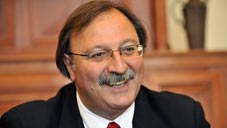 On September 6 Georgian Foreign Minister Grigol Vashadze held a meeting with the European Commissioner for Home Affairs, Cecilia Malmstrom, in Brussels. The meeting addressed the ongoing processes to facilitate visa policies and readmission of illegal immigrants treaty between the EU and Georgia.
"We had two main goals for this meeting. First to assess the implementation of the facilitated visa agreement, and second, to assess the readmission agreement. We also talked about precise plans and dates for when the European Commission will arrive in Georgia", stated Georgian Foreign Minister Grigol Vashadze.
Malmstrom added,"We discussed the visa policy and there is progress in this direction in Georgia. We signed the readmission agreement about six months ago, which eased life for many Georgian citizens. In March of next year we will send a mission to Georgia which will monitor the process of the Agreement and then we will make an action plan".
According to the Georgian Foreign Ministry, the EU positively assessed the implementation of the aforementioned agreements and discussed a greater liberalization of the visa policy between the EU and Georgia.
The EU and Georgia signed the readmission and visa facilitation agreement in January 2011, which came in force March 1 of this year. The facilitated visa agreement refers to certain categories of Georgian citizens such as close relatives of those residing in the EU, businessmen, scientists, students and journalists. Visa fees have also been cut from 60 to 35 EURO.
The readmission agreement envisages the obligation of the Georgian Government to take back Georgian citizens residing in the EU illegally, but also obliges Georgia to admit illegal immigrants from third countries who enter the EU zone from Georgian territory.
The analyst Vasil Chkoidze assessed the visa facilitation between EU and Georgia as a significant achievement on the way of Georgia's European integration. "More Georgian citizens will be able to travel to the EU, facing fewer consular barriers. The visa fee has also significantly been reduced, and for certain categories of citizens--diplomats for instance—there will be a visa-free entry. As for the readmission agreement, Georgia has assumed the responsibility for admitting non-Georgians who entered EU from Georgia," said Chkoidze. There have been frequent cases when citizens of third countries have used Georgia as a transit point to migrate illegally to the EU.