Echoes of the Cold War: Georgian Interests section in Moscow deprived of its facilities
By Ernest Petrosyan
Thursday, September 8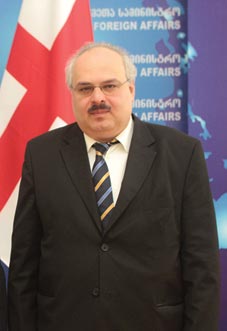 "Tbilisi might cease its relations with Moscow even via Swiss meditation", reported the Russian newspaper
Kommersant
on September 7. According to
Kommersant
, the reason for such a radical move would be caused by auctioning off Georgian Government property in Moscow, the hotel serving as an Embassy for Georgia until it was illegally confiscated in 2006.
As
Kommersant
refers to an anonymous source from Georgian MFA that if the section of Georgian interests is evicted from the building on Ostorozhenka Str in Moscow, officials in Tbilisi will respond by taking "adequate measures". Based on
Kommersant
's information, it is not excluded that Tbilisi will accuse Moscow of violating the Vienna Conventions, which will halt a trilateral Russian, Georgian and Swiss agreement regarding interest sections through Swiss Embassies. In this case, Tbilisi will recall its consular employees and expel Russian diplomats from Georgia who work in the Russian Embassy on Chavchavadze Ave.
In response to the
Kommersant
article, Georgian Deputy Foreign Minister David Jalagania denied the information. "As of yet, we are not planning either to recall our diplomats, or to expel Russian ones from Georgia. This information is only disseminated by Russian media, and no such decision is being considered."
As analyst Gia Khukhashvili told
The Messenger
, "The relations between Russia and Georgia are like those during the Cold War, and in case relations are cut off things would worsen. I do not exclude anything but I don't think the Georgian government will cease their consular affairs, which would cause a lot of trouble to Georgians living in Russia."
A few days ago, the Deputy Foreign Minister Nino Kalandadze accused Moscow of illegal actions against Georgian interests, saying that Georgia judges these actions by the Russian government as violations of the Vienna Convention.
She also stated that the Georgian MFA sent a protest note on July 26, and no response was ever received, while the building auction went ahead. Twice in August the Georgian interest section was deprived of electricity, and the energy supply cut off. Allegedly this was due to unpaid utility bills, according to the Russians.
Since the August 2008 War when Georgia ceased diplomatic relations with Russia, both counties have been implementing consular activities through Swiss mediation. In Tbilisi, the section of Russian interests functions in the former building belonging to the Russian Embassy while the Georgian interests section was illegally confiscated and now has to pay rent for office space in Moscow.