International protests at Director Sturua's dismissal leave Georgian authorities unmoved
By Salome Modebadze
Thursday, September 8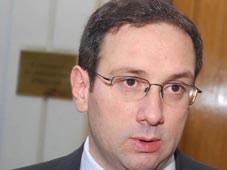 On September 6 the Minister of Culture and Monument Protection of Georgia, Nika Rurua, published an open letter to British actors Vanessa Redgrave, Alan Rickman and Thelma Holt, who had expressed their embarrassment towards Sturua's dismissal last week in The Guardian. "We were shocked to learn that the Georgian Minister of culture has dismissed Robert Sturua from his position as artistic director of the Rustaveli Theatre Company on grounds of xenophobia after he had criticized the Georgian government," their letter stated.
Talking of Sturua as an "internationally revered theatre director" the British friends and professional colleagues highlighted the Georgian Directors iconic productions during a period of great international tension. Hoping that the president of Georgia, Mikheil Saakashvili, would see fit to reverse this "deeply concerning dismissal", the British actors doubted that xenophobia had been the real basis for the Georgian director's removal. "We can't believe that such a charge should be used as a pretext to remove from the Georgian theatre one of its universally acknowledged living treasures," they said in a letter.
In a reply to Vanessa Redgrave, Alan Rickman and Thelma Holt, Georgian Minister Nika Rurua agreed with the authors about Sturua's "significant contribution to the arts in Georgia" but emphasized the Director's recent "derogatory remarks about minorities" in various interviews. Talking of the "danger" of Sturua's provocative remarks on a multicultural Georgia, the Minister spoke of "free cultural expression as a cornerstone of Georgian life," but discouraged state employees from conveying xenophobic messages.
Meanwhile the Georgian Director broke his silence and gave a first televised interview to obieqtivi.net about his dismissal as Artistic Director of the Shota Rustaveli National Drama Theatre. Talking of the political aspects of his removal, the Georgian Director shared his plans with the audience. "I am not a hero, but as a free person I should respect myself. First I was accused of racism and xenophobia, than they offered me a significant honorarium--what does this mean?" Sturua wondered, stressing that he won't make any steps outside of his conscience.
In August Robert Sturua was removed from his position for his "ethnic metaphors." Refusing to continue working in future with the Rustaveli Theatre, Sturua hesitated to make specific decisions about his plans, however. While waiting for the "final strike" of the ongoing events Sturua continues working on
The Hunting Season
at Rustaveli Theatre to wind up this production, then will leave for London for a couple of months and later stage a play at
Et Cetera Theatre
in Moscow, dedicated to the Director of the Theatre, Alexander Kaliagin.