Borjomi water might soon be available in Russia again
By Ernest Petrosyan
Friday, September 9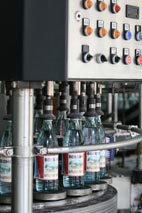 After a five-year politically motivated embargo, "Borjomi mineral water supplies will be resumed on the Russian market", said IDS Borjomi International Business Development Director, Nataliya Matusevich. On September 7 the company held negotiations with Russian authorities on resuming the exports to Moscow that had ceased since the 2006 quality and consumer safety concerns. "We have filed several of applications and requests on the subject with the Russian Federal Service on Consumer Rights Protection," said Matusevich.
After talks with the company's management, Russia's consumer protection agency [RosPotrebNadzor] said that the company should provide "technical documentation on production and safety" after which the agency would inspect samples of Borjomi production, and to decide on the possible access of the production to the its market.
Kakha Kukava's Free Georgia attributes the export resumption to their leader's initiative "modestly" assessing it as his Party's first major "victory". A statement released by Free Georgia states that the agreement on export resumption was achieved between Kukava and the Russian Chief Sanitary Inspector Genady Onishenko during his visit to Moscow.
"During the visit to Russia, the leader of Free Georgia met Alexander Ebralidze and other influential members of the Georgian diaspora, and the first result of these consultations is evident. Free Georgia welcomes the readiness of IDS Borjomi International to resume supplies and wishes them luck in their further activities. According to the statement, this is not the only expected result, however, and the party will continue negotiations to resume wine and other Georgian exports.
A few days ago, Deputy Foreign Minister Nino Kalandadze attributed such "speculations" from Russian authorities on the readiness of import resumption to the Swiss mediated Russian-Georgian talks on Russia's World Trade Organization entry that will be held on September 12. Kalandadze also said that the issue of resuming Borjomi water exports was not raised in talks with the Russians, nor was such a request issued by the company, since Russia will withdraw the embargo anyway if they are admitted to the WTO.
Analyst Ramaz Sakvarelidze agreed that the main grounds for resuming imports will be Russia's WTO entry. As for Kukava's negotiations with Onishenko he believes Russia might want to politically bolster the Georgian opposition party's ratings.
International Company IDS Borjomi International – is the largest producer of natural mineral water in the CIS and Baltic countries. IDS Borjomi International has subsidiaries in five countries and exports its products to 30 countries. Today, the company combines IDS Borjomi Georgia, IDS Group Ukraine, IDS Borjomi Russia, as well as representative offices: IDS Borjomi Europe (Vilnius, Lithuania) and IDS Borjomi Azerbaijan (Baku, Azerbaijan).The company owns the Borjomi trademark, and holds an exclusive right [prolonged in 2009 for 25 years by the Georgian government] to extract and produce Borjomi's mineral waters.