In Poland Saakashvili speaks of lessons from the Rose Revolution
By Etuna Tsotniashvili
Friday, September 9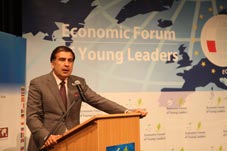 In his speech to the Economic Forum of Young Leaders in Nowy Sacz, Poland President Mikheil Saakashvili shared lessons from Georgia's recent transformation and briefed the audience on recent developments in the country. Speaking about the period when Rose Revolution leaders came into power, Saakashvili said that the new authorities took the risk of launching a quick, radical, and comprehensive reform process, admitting that errors were made.
"We were not constrained by dogma or the dead weight of bureaucracies and powerful interest groups. Of course we did not succeed in everything--we had significant shortcomings and we made many mistakes," he said.
Saakashvili emphasized Georgia's reforms to improve the investment climate saying that the government built "a highly favorable" situation based on three key principles: minimal regulation, low taxes, and strong anti-corruption enforcement. As Georgia is a small nation and is located in a "shaky geopolitical environment" the only chance of attracting investors was to become "a regional haven."
"We are now ranked as one of the easiest places in the world to do business, according to the World Bank: 12th in the world and first in Central and Eastern Europe," he said.
The Georgian President touched on the situation after the 2008 August Russian-Georgian war which was followed by the world economic crisis. As he said, before the invasion of 2008 and the world crisis, Georgia had a consistent double-digit growth rate. As testimony to the depth and soundness of economic reforms is the fact that despite a contraction in 2009, our FDI-driven economy has proven resilient in the face of both a military invasion and the global economic crisis. "We had 6.5% growth in 2010 and expect 6% in 2011," Saakashvili added.
"Our model is neither perfect nor necessarily transferable to Arab nations or even other countries of our region, but everybody can find a general message of hope in our experience: radical changes are possible," Saakashvili concluded, adding that Europe, led by Poland, will emerge stronger, more united and more coordinated from the economic crisis.
"Dear friends, Georgia is not yet part of the EU obviously, but we are fully aware that our well-being depends on Europe's recovery, that our security depends on Europe's commitment to international law and a stronger foreign policy, and that both you and we are already in the same boat," Saakashvili stated.