UK Prime Minister Raises Georgia Issue in Moscow
By Ernest Petrosyan
Wednesday, September 14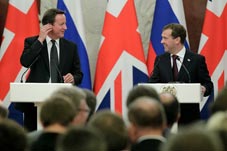 The frosty Georgia-Russia relationship was among the disputed international issues that were discussed during the first official meeting of a British Prime Minister with a Russia President for over five years. "We discussed the need to ensure security and confidence for Georgia and Russia implementing the 2008 ceasefire in full," stated the British PM David Cameron in his opening remarks at a joint news conference with President Medvedev after the meeting in the Kremlin, Moscow on September 12.
Regardless of the many contentious issues which have strained British-Russian bilateral relations over the past few years, Cameron said that the UK and Russia would gain from a stronger relationship and added that he and President Medvedev had agreed "to strengthen our co-operation in a number of areas".
"Britain and Russia have very strong business-to-business and people-to-people relationships. In terms of the government relationship, it has not been frozen," said Cameron. "Of course, it is no secret that there are difficult issues where we differ. We cannot pretend these do not exist; we must continue to have frank discussions about them. At the same time, without wishing these issues away, it is right to rebuild a more effective relationship on those things that are vital to the safety and well-being of people in Russia and in Britain."
The speaker of the Georgian parliament, David Bakradze, positively assessed Cameron's statement. "Such statements for Georgia are a guarantee that Russia will not continue its aggressive policy towards Georgia, and after some time will move out of the Georgian territories," stated Bakradze.
"It is very important that such important members of the international community as Britain remind Russian officials to implement the ceasefire agreement. It also should be noted that Britain raised this issue at a very tense meeting," the Free Democrat's Political Secretary Alexi Petriashvili said.
The Kremlin official website, however, did not disclose Cameron's statements regarding Georgia at the joint briefing. According to BBC Russia, the statement is only in the English version, and in the Russian version, the statement was ignored. As for the synchronic translation at the briefing, the statement regarding Georgia was also disregarded by the translator.
British newspaper The Guardian says that Cameron's visit has not brought a breakthrough in British-Russian relations. "There is still no prospect of a return to the halcyon era of a decade ago – before Iraq, before the colour revolutions in Kiev and Tbilisi, and before the 2008 Russia-Georgia war. Some will have forgotten that Cameron flew to Tbilisi to show support to Georgia's embattled leader, Mikheil Saakashvili. But not Putin," the Guardian reports.
Analyst Gia Khukhashvili says that such statements regarding the ceasefire agreement implementation have become a matter of course for western officials and diplomats. "Such verbal support is very good, however, it is not new, and it has just become one issue among many that irritates Russia. I am confident that more pressing issues for British-Russian relations were raised by Cameron," Khukhashvuli told
The Messenger
.